Girard Bengali, APC Wins $1.8M FINRA Award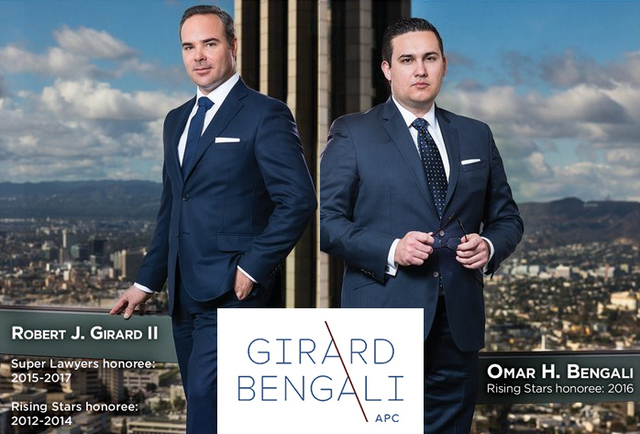 July 25, 2017 - Los Angeles, California, July 24, 2017 - Hailed as a victory in the fight against financial elder abuse, Girard Bengali, APC obtained a FINRA arbitration award for over $1,800,000 against Wedbush Securities, Inc. In issuing one of the largest FINRA awards of the year, the three-member arbitration panel specifically found that Wedbush engaged in elder abuse and unauthorized trading, assessing over $1,000,000 in punitive damages.
"This was a classic case of elder financial abuse—a growing trend across the industry," says founding partner Robert Girard. He added, "justice was served by the FINRA panel for these very elderly investor victims who were taken advantage of by a broker they trusted and a firm that profited from their misplaced trust."
On behalf of the claimants, Girard Bengali, APC, asserted the following causes of action: violations of state and federal securities laws and FINRA/SEC Rules; unauthorized trading; breach of fiduciary duty; unsuitable recommendations; failure to supervise; fraud; elder financial abuse; and other causes of action.
Claimants sought the following relief: general and compensatory damages in the amount of $247,000.00; lost opportunity costs; disgorgement of all commissions and fees paid to Wedbush and its broker, Mark Augusta; costs of proceedings; punitive damages; interest at the legal rate on all sums recovered; and reimbursement of all attorneys' fees and costs.
After seven days of hearing and additional post-hearing submissions, the Panel found that Wedbush and Augusta engaged in improper conduct by subjecting the claimants to elder abuse and allowing unauthorized trading in their account. The Panel found Wedbush solely liable and awarded claimants the following amounts:
1. $250,000.00 in compensatory damages;
2. $110,000.00 in commission disgorgement;
3. Interest in the amounts of $35,069.00 for compensatory damages and $15,430.00 for commission disgorgement;
4. $1,080,000.00 in punitive damages pursuant to the California Elder Abuse and Adult Civil Protective Act and the California Welfare and Institutions Code Sections 15600, et seq.;
5. $277,691.00 in attorneys' fees pursuant to the California Welfare and Institutions Code Section 15657.1; and
6. $28,864.00 in costs.
Girard Bengali, APC, is a law firm specializing in securities, employment and business litigation and arbitration. Girard Bengali, APC, represents institutional and individual investors, as well as individual financial professionals, in securities litigation in both state and federal courts and in securities arbitrations before FINRA and other forums. The firm has a growing practice representing victims of elder financial abuse and investigates and pursues claims involving a broad range of financial and investment products. In addition, the firm represents individuals and small- to mid-size companies in employment and business disputes.
Girard Bengali, APC, is committed to obtaining justice for its clients and pursuing the compensation wronged investors and employees deserve.
ABOUT ROBERT GIRARD II
Robert J. Girard II, a founding partner of Girard Bengali, APC, has more than 15 years of experience in the areas of securities litigation, securities arbitration and employment disputes. He represents clients in Los Angeles, California, and throughout the state.
Mr. Girard advocates for institutional and individual investors and has recovered millions of dollars on behalf of his clients from the biggest Wall Street brokerages. He also represents securities professionals in their employment disputes with broker-dealer firms. His representative matters have included wrongful termination cases, unfair business practices and FINRA regulatory matters. In one case, Mr. Girard secured a $3.7 million arbitration award against a FINRA member firm on behalf of individual brokers. His skill and determination have allowed him to build a reputation as a dedicated and fierce representative of his clients' interests.
Mr. Girard completed his undergraduate education at the University of Maryland, College Park. He went on to attend the Seton Hall University School of Law, where he graduated cum laude. He has been admitted to practice law in California since 2001. Following law school, Mr. Girard worked at two well-known law firms in Los Angeles, specializing in securities arbitration and litigation.
From 2015 through 2017, Mr. Girard has been named to the Southern California Super Lawyers list, and for three consecutive years (2012-2014), he was selected to the Southern California Rising Stars list by Super Lawyers Magazine, a designation earned by less than 2.5% of attorneys under the age of forty.
Dedicated to his profession, Mr. Girard is actively involved in multiple legal organizations. His memberships include the Los Angeles County Bar Association, the Public Investors Arbitration Bar Association (PIABA), the Italian American Lawyers Association of Los Angeles and the Beverly Hills Bar Association.
ABOUT OMAR BENGALI
Omar H. Bengali is a Founding Partner of Girard Bengali, APC. Mr. Bengali's primary practice includes labor and employment litigation and securities arbitration. Mr. Bengali began his career representing a wide array of companies in state and federal court. Having founded Girard Bengali, he now specializes in representing executives, employees and small to mid-size companies in all aspects of employment law.
Both inside and outside of the securities industry, Mr. Bengali litigates all types of employment-related claims and regularly represents employees and executives with claims involving wrongful termination, wage and hour violations, retaliation and discrimination. Mr. Bengali particularly focuses on claims brought by female employees and executives who have been discriminated against on the basis of pregnancy, sexual harassment or denial of equal pay. He has also represented employers before federal agencies on I-9 audits and investigations. In one such audit, Mr. Bengali successfully defended an employer against an Immigration and Customs Enforcement audit, avoiding penalties in excess of several million dollars.
Mr. Bengali's employment practice extends into the securities arena, including the representation of financial professionals against broker-dealer firms in FINRA arbitrations, as well as successfully counseling clients through FINRA regulatory and enforcement inquiries.
In 2016 and 2017, Mr. Bengali was selected to the Southern California Rising Stars list by Super Lawyers Magazine, a designation earned by less than 2.5% of attorneys under the age of forty.
For more information, please visit
http://girardbengali.com
or call (323) 302-8300.
Email Girard Bengali, APC