MasterPieces Acquires College Team Trains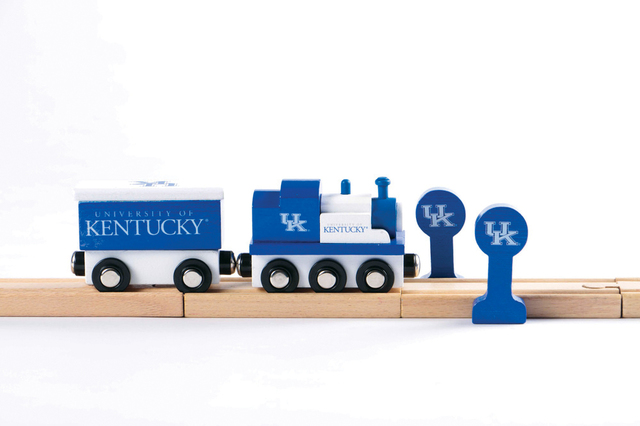 July 26, 2017 - ALL ABOARD! MasterPieces, Inc. today announces the acquisition of all assets of College Team Trains, a maker of collectible wooden toy trains for more than 50 of the largest and most popular colleges and universities in the U.S.
David Rolls, President of MasterPieces, said, "College Team Train's personal touch and hometown service make it the perfect partner at the local level. Retailers will now be able to find all their favorite teams from professional sports to colleges in one place."
Suzanne Bailey, who joins the MasterPieces team from College Team Trains as the collegiate sales specialist, agrees, "I'm happy to be a part of MasterPieces. We now have the resources and expertise to offer a broader range of collegiate products than ever before."
MasterPieces partnership includes the NFL, MLB, NHL and NCAA in a wide range of products from popular card games such as Spot it!® to Jigsaw Puzzles and Wood Toys. Acquiring College Toy Trains, MasterPieces now becomes the largest marketer of Collegiate toys, games and puzzles.
About MasterPieces:
MasterPieces Inc. was founded by David Rolls, former 8-year professional baseball player for the Kansas City Royals and Texas Rangers organizations, in 1995 with a passion to serve diverse retail markets and partner with evergreen brands and top puzzle artists. Twenty years later, MasterPieces has established itself as the market leader for combining the best quality products with the best value. Headquartered in Tucson, Arizona, MasterPieces reputation for producing innovative and high-quality products has propelled its global growth and the company's commitment to ensuring great value and superior customer support has earned its dedicated, worldwide customer loyalty. MasterPieces creates some of the world most elegant puzzles and innovative packaging, as well as toys and gifts, while also partnering with brands such as John Deere, John Wayne, Tetris, Animal Planet, Hershey's, and sports licensing with MLB, NFL, NCAA, NHL organizations. For more information about MasterPieces, visit the company website at
MasterPiecesInc
and to interact with the company, please like and follow MasterPieces on
Facebook
,
Twitter
,
Pinterest
, and
YouTube
.