Online Motorcycle Company RumbleOn Announces New Branding Identity, Updated Website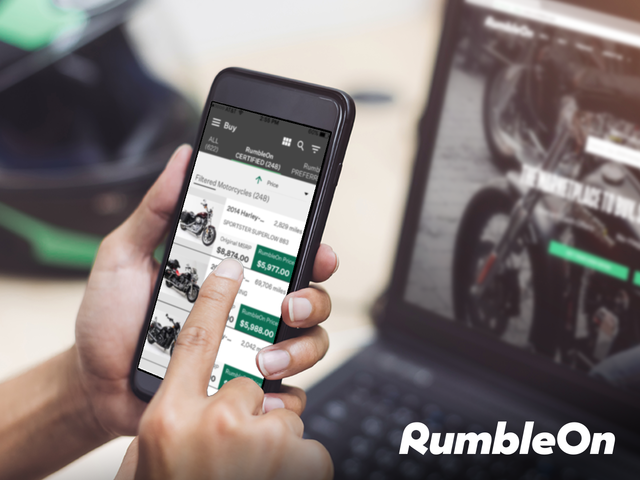 Charlotte, N.C. – July 29, 2017 –
RumbleOn Inc. (OTBQB: RMBL) is a one-of-a-kind online marketplace to buy, sell, finance, and list motorcycles. The company has just launched a new corporate brand strategy and website to elevate its identity as a forward-thinking technology powerhouse.
"We are very excited to show off the new look and feel of RumbleOn," said RumbleOn CEO, Marshall Chesrown. "Our new branding really showcases our technology capabilities as we continue to perfect the user experience for customers and dealers to sell or buy a motorcycle online or through our mobile app."
The message of RumbleOn is simple: We are an intelligently engineered way to buy or sell pre owned motorcycles. The new identity is in-line with this message and is designed to establish RumbleOn as the best online marketplace for motorcycle inventory in the nation, and as the smartest way to buy, sell, and finance pre-owned bikes. The new branding includes a revamped company logo, as well as an updated website at
www.rumbleon.com
and smartphone application for iOS and Android devices.
Designed in partnership with a New York City advertising agency, the new visual identity reinforces RumbleOn's mission to be the premier technology enabled resource for motorcycles with its intelligently engineered and intuitive digital platform.
RumbleOn would like to encourage everyone to explore the new site at
www.rumbleon.com
.
About RumbleOn
RumbleOn provides a unique online marketplace solution for the acquisition and distribution of recreational vehicles. The RumbleOn platform allows consumers and dealers to buy, sell, list, and auction recreational vehicles online. RumbleOn provides the only real liquidity source and access to what is expected to be the largest virtual inventory of recreational vehicles on the planet.
RumbleOn.com
is a fun and easy-to-use website and mobile app with market leading technology and transparency. RumbleOn is currently publicly traded on the OTC under the symbol RMBL. For more information please contact
press@rumbleon.com
.