Box and Neocol Announce a Partnership to Deliver Next Generation Cloud Content Management Integrated with Next Generation Services Transforming Work Forever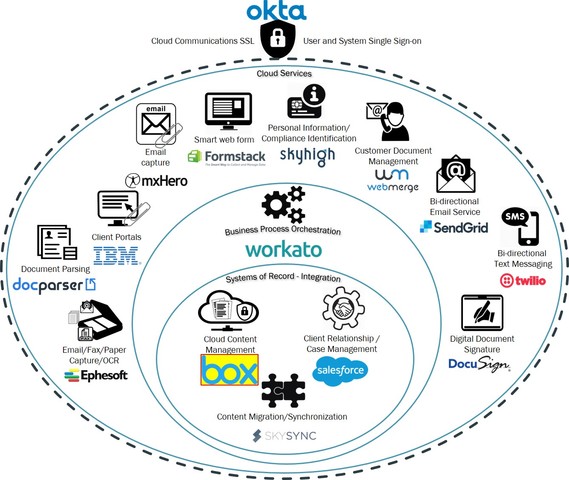 Redwood City, California and Naperville, Illinois – August 11, 2017 – Neocol and Box announced a partnership to provide process-centric cloud content management to help clients better service customers, greatly improving the probability of success. This system integration and reseller agreement draws from Neocol's enterprise-level content knowledge to deliver the next generation Box platform with cloud-based services. One of the first capabilities is the announcement of solution templates and accelerators that will help any sized organization utilize the cloud paradigm, transforming how they engage with customers. Initial successes have already been realized in banking, government, business services and transportation.
"The Box cloud-based content management repository is a powerful alternative to traditional content management options," said Ryan Lott, CEO of Neocol. "Box is a true SaaS Cloud Content Management solution. In conjunction with our ecosystem of other SaaS technologies, Box enables Neocol and our clients to be flexible, nimble and deliver success at lightning pace."
"This partnership with Neocol will aide us in solving a client's most complex content needs anywhere in the world, while being elastic to the needs of the organization," said Ross McKegney, Director, Box Platform. "Combining our technology with Neocol's ability to bring together an ecosystem of cloud capture, integrations, process orchestration and communications allows us to raise the bar in terms of how the market used to buy content solutions."
About Neocol
Neocol is a leading system architect and integrator of cloud-centric content solutions to innovate new ways to work with over 15 years of enterprise expertise solving the biggest problems. The company offers a diverse array of capabilities to bring about a transformative view in how cloud-centric services and Box Platform can better engage customers, minimize IT cost and maintain content compliance. Using the newest born-in-the-cloud content services examples include client portals, digital intake centers, case management and 360-degree customer views are possible while maximizing the use of existing systems and processes. For more information, please visit
http://www.neocol.com
Attachments