Fusion Stone To Feature Peninsula Ledgestone In Billiards Room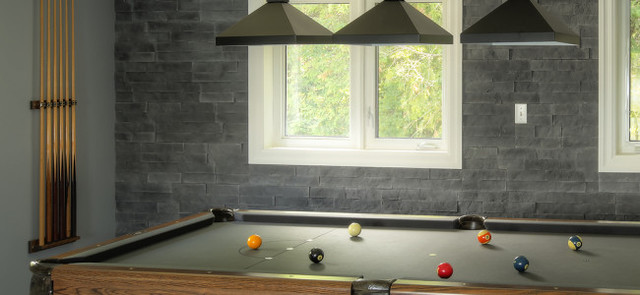 August 22, 2017 - Fusion stone says
billiards room will be featuring Peninsular ledgestone
, the latest variation of Fusion Stone as its project for August. It is a thin stone veneer that presents the popular tradition of stone in a beautiful, economical and easy-to-install form. Billards has a long standing tradition for centuries as a popular sport with many variations to select from.
The company says
Peninsula ledgestone
is the newest member of the Fusion Stone family and it has been designed to satisfy the exact requirements of modern consumers and building professionals alike who are looking for a more contemporary look in stone veneer. The company also noted that Peninsula Ledgestone is characterized by a sleek, tightly stacked profile with variable length runs of moderate width stone; each run is somewhat offset from the next both vertically and horizontally.
According to the company, this installation converts just another room with a billiards table into one with character and personality, obvious respect for the game and suitability for testing one's skills against all comers. The cue rack and appropriate overhead lighting complete the scene as a custom venue for serious competition or for an evening's fun with friends or family.
Peninsula Ledgestone is available in two modern colors. Grotto is characterized by rich contrasting hues reminiscent of slate. Cypress features light sandy tones with occasional appearances of complementary darker elements.
It might interest you to know that Fusion Stone is available in three distinct profiles and comes in multiple colors. It is maintenance-free, guaranteed for life, and available at over 1,500 building supply retailers across Canada.
The company says clients should look forward to yet another feature project in September. Ask your building supply retailer about Fusion Stone and visit fusionstone.ca.
Fusion Stone
is manufactured by
Shouldice Designer Stone
that has a rich and proud history of Innovation, Quality and Service. Their unwavering customer-first orientation, attention to detail, and a persistent dedication to continuous improvement for over 65 years have been instrumental in establishing them as leaders in the stone and veneer products industry.
Fusion Stone
281226 Shouldice Block Road
Shallow Lake, Ontario
N0H 2K0 CANADA
Telephone: (519) 935-2771 ext.224 or (800) 265-3174
Email:
fusion@shouldice.ca