Spartan Net Launches Student Group Contest at Michigan State University Sparticipation Event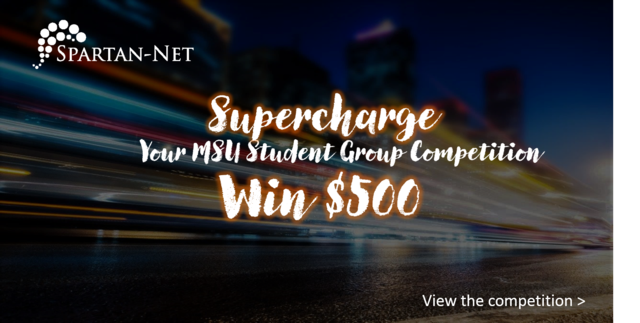 August 25, 2017 - Spartan Net a local Michigan
fiber Internet service provider
is hosting its first ever 'Supercharge Your Student Group' competition to give away a $500 cash prize to one lucky Michigan State University student organization.
All student groups participating in Sparticipation are eligible to enter. The top ten organizations with the most votes by August 28th will compete in a live voting event during Sparticipation where attendees have the power to choose the winner. The $500 grand prize will be awarded at 7:30 PM August 29th, 2017 during Sparticipation.
To learn more, visit
https://www.Spartan-net.com/vote
"Spartan Net is thrilled to be able to be a part of this event and give back to the community," said Richard Laing COO of Spartan Net. Over 400 groups will be participating in the annual Sparticipation event which is attended by around 12,000 Michigan State University students. Spartan Net is supercharging these student groups in the same way they supercharge
apartments with fiber Internet
.
About Spartan Net Co.
Spartan Net is apartment living supercharged. Spartan Net delivers Ultra-Fast Fiber Internet that provides students with an academic advantage over traditional high speed Internet. Founded in 2001, Spartan Net is based in East Lansing and services over 100 apartment communities with its ultra-fast fiber Internet and TV service.