Medcom Releases 3-Part Healthcare Video Series on Nursing Informatics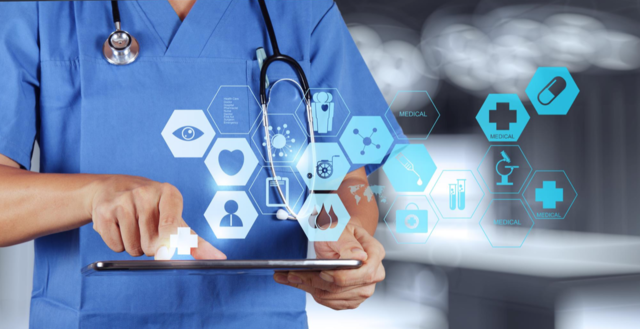 August 31, 2017 - Cypress, CA
– Medcom-Trainex®, a leading provider of healthcare education materials, is pleased to announce the release of a comprehensive new series of healthcare videos on Nursing Informatics. The series, Essential Nursing Informatics, provides a detailed look into how information technology has revolutionized the field of nursing.
The three-part series includes:
Essential Nursing Informatics: Introduction
Essential Nursing Informatics: Impact on Nursing
Essential Nursing Informatics: Impact on Healthcare and Quality Initiatives
Nursing informatics has grown exponentially since the passage of the American Recovery and Reinvestment Act of 2009, which spawned a revolution in healthcare by allocating more than $19 billion to hospitals and physician practices who demonstrate "meaningful use" of electronic health records (EHRs). Health information technology has led to greater efficiencies in healthcare, better management and analysis of patient records, and improved communication between nurses and patients and their families.
Viewers of Medcom's nursing informatics series will learn about these benefits and more, including the general types of informatics technology used for patient care today, how informatics has revolutionized the field of nursing, and details about the Technology Informatics Guiding Education Reform (TIGER) guidelines, among other essential information.
For more than 50 years Medcom has been producing quality healthcare education materials for healthcare professionals, students, and patients and their loved ones. Our products are used across the nation by universities, hospitals, and long-term care facilities, and Medcom has hundreds of healthcare education videos in its product catalog.
The Essential Nursing Informatics series was developed with healthcare facilities, colleges and universities, and nurse educators in mind. Each DVD in the series is individually-priced, enabling organizations to choose the most relevant programs for their needs. The series will soon be available for online streaming as well.
Learn more about the new Essential Nursing Informatics series
here.
and preview the healthcare education DVDs in the series at no charge at
www.medcominc.com.
For a free 7-day preview, pricing information for online streaming, or to have a preview emailed to you, please call (800) 877-1443, or email
customerservice@medcominc.com
.
—-
About Medcom
Medcom has been producing and distributing quality healthcare education for more than 50 years. The company employs the input of experts in a variety of healthcare specialties and professional organizations, such as the American Lung Association, the Mayo Clinic, and Stanford University Medical Center.
Medcom's educational materials are produced for healthcare professionals, students entering the healthcare industry, patients, and health-conscious people everywhere. For additional information, please visit [ur=http://www.medcomrn.com/]www.medcomrn.com[/url].
Contact Information 
Lisa Hammonds 
Medcom-Trainex 
800-541-0253 ext. 227