Caleb Jenkins Joins Intuit ProConnect Customer Council 2017-2020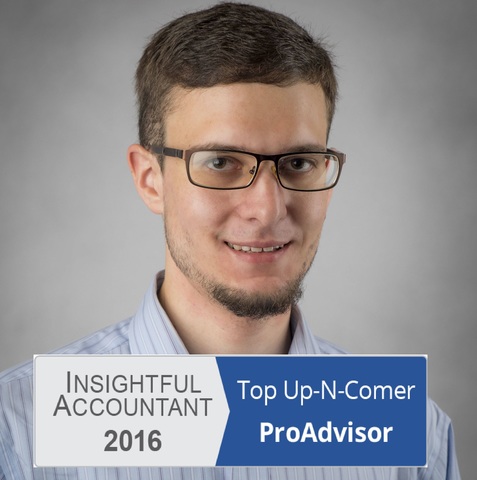 SEPTEMBER 15, 2017 – Caleb L. Jenkins, CQP has joined the Intuit ProConnect Customer Council, an influential coalition of senior Intuit leaders and forward-thinking tax professionals who collaborate to lead and shape positive change in the industry and regulatory environment as well as provide insights that help accountants and their customers prosper. Caleb is joining the Customer Council for the 2017-2020 term.
"Our world is constantly changing, and so are the ways that we work and play. I am excited about the remarkable opportunity to join Intuit's ProConnect Customer Council for the 2017-2020 term," said
Caleb Jenkins
, Leader of Client Accounting Services at RLJ Financial Services, Inc. "I am looking forward to sharing my thoughts and ideas on how to best impact change in the tax profession and bring positive impact to the regulatory environment with the IRS and state tax agencies. It will be my delight to work with the leaders at Intuit and some of the brightest minds in the tax and accounting profession over the next three years to bring positive change to our clients and to their businesses."
"Our Intuit ProConnect Council is a diverse group of forward-thinking Tax Professionals, who advise our leadership team. We are excited Caleb is joining our Council to share his unique perspective," said
Jim Buffington, CPA
, who co-leads Intuit ProConnect's Customer Council. "Caleb has demonstrated a great grasp of technology, innovation, and empathy for clients. We appreciate that Caleb uses his finance skills to make a difference with small business clients, and helps transform lives through ministry organizations. He will be a great addition to our Council."
The ProConnect Customer Council consists of 12 members and meets several times a year both in-person and virtually. The leaders at Intuit hear from Council members on various topics during the year, often leverage opportunities with industry magazines for Council members to speak on relevant topics, meet with government leaders in Washington, D.C., and have a few conference calls with the group.
The Council is engaged with the senior leaders and product managers at Intuit, particularly on its professional tax products (Intuit ProConnect Tax Online, Lacerte and ProSeries) and QuickBooks Online Accountant. The Council members are one of the biggest influencers to Intuit's higher-level strategy, which trickles down to products. Intuit has more tax and accounting professionals than any other provider, and those professionals file as many returns as TurboTax.
About RLJ Financial Services, Inc.
At RLJ Financial Services, we equip individuals and small businesses with vision and resources to proactively and effectively impact the world. We do this by helping individuals and small businesses meet their goals through cloud accounting services, retirement planning, estate planning, business profitability, tax planning and preparation, payroll services, cash flow management, and business succession planning.
See more at
http://www.rljfinancial.com/
.
About Intuit, Inc.
Intuit Inc. is committed to powering prosperity around the world for consumers, small businesses and the self-employed through its ecosystem of innovative financial management solutions. Its flagship products and services include QuickBooks® and TurboTax®, which make it easier to manage small businesses and tax preparation and filing. QuickBooks Self-Employed provides freelancers and independent contractors with an easy and affordable way to manage their finances and save money at tax time, while Mint delivers financial tools and insights to help people make smart choices about their money. Intuit's ProConnect brand portfolio includes ProConnect Tax Online, ProSeries® and Lacerte®, the company's leading tax preparation offerings for professional accountants.
Founded in 1983, Intuit serves 42 million customers in North America, Europe, Australia and Brazil, with revenue of $4.7 billion in its fiscal year 2016. The company has approximately 7,900 employees with major offices in the United States, Canada, the United Kingdom, India, Australia and other locations. More information can be found at
www.intuit.com
.
Email RLJ Financial Services, Inc.