TemplateMonster Released 50 Free Business Development eBooks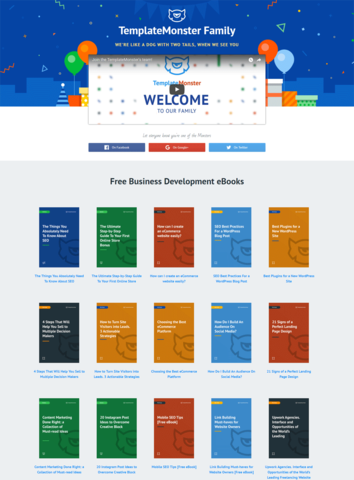 October 13, 2017. Ft. Lauderdale, FL. TemplateMonster released 50 free business development eBooks.
It's been a year since TemplateMonster editorial team started releasing
free eBooks
about all the things related to running online business, as well as web design and development. At the beginning, those were experts from the
Startup Hub
who started to publish free educational materials for entrepreneurs planning to launch startups. As the time passed by, we saw the impressive download stats and a number of comments from our fans. So, we decided to keep moving further and share more useful and free eBooks that can help you achieve success in the business and online projects that you run or just plan to bring to live.
The topics that we highlighted in the free eBooks cover all aspects related to running online business, brand promotion, and revenue boost. These include eBooks about:
SEO
Online marketing
eCommerce
Social media
Managing WordPress sites
Writing tips
Money-making ideas
Creating landing pages
UI/UX, and so much more
The collection includes literally any eBook that will provide you with a deeper insight into all aspects related to launching a project on the web and starting generating revenue with its help.
You have probably heard the latest news from TemplateMonster. We have officially become a marketplace. So, we welcome vendors from all over the world to start selling their creative digital works on the marketplace and earn a commission of about 70% from each sale. With the purpose to better introduce you to the structure of the marketplace and the process of submitting your works over there, we have created a free eBook that will be added to the collection soon.
The selection of free eBooks from TemplateMonster grows all the time. These were only the first 50 releases. More useful educational materials will be released in the near future. So, follow our updates to be the first one who downloads free educational materials from TemplateMonster.
"It was a pure experiment in the beginning. We launched Startup Hub and thought that it would be useful for our clients taking the first steps in the online promotion of their businesses. On seeing the great demand on the free eBooks, we realized that such kind of content is exactly what our audience is looking for. So, we started to update the collection of free eBooks with new releases. There are 50 of them available for download at the moment. More helpful pieces are set to be launched soon. Stay tuned!"-
Demetrio Fortman, COO at TemplateMonster
.
About
TemplateMonster.com
TemplateMonster is one of the world's leading manufacturers of ready-made websites templates of any complexity. As of today, the number of products in the company's catalog of templates, and ready-made web sites has exceeded 26,000 units. The company's templates work with all popular engines including WordPress, Joomla, Drupal and many others. Their customers receive ongoing 24/7 support and maintenance from personal managers. For more information, please visit our website.
Source:
https://www.templatemonster.com/press/templatemonster-released-50-free-business-development-ebooks/