Fusion Stone Says Fusion Stone Demo Tour Update is Loved by Everyone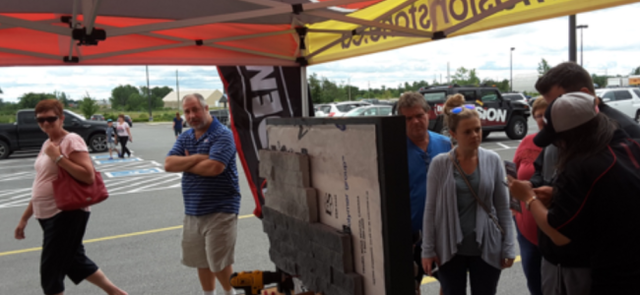 September 22, 2017 - According to Fusion stone website,
the 2017 edition of Fusion Stone Demo tour
would be wrapped up very soon. Fusion stone says "It has been an amazing experience for all those involved".
The company says they would love to thank all of their retail customers that made the tour a success by accepting to host the event; their enthusiasm, cooperation and participation not only allowed the tour to take place but made it the success it has been. Special thanks was given to the Demo Tour ambassadors, Justin and Irene who traveled the province for over two months, setting up, tearing down and demonstrating just how easy it is to install Fusion Stone, saying they did a fantastic job.
Fusion stone says they are particularly grateful to the thousands of people who stopped by to experience Fusion Stone for themselves. Men and women of all ages, including contractors discovered that Fusion Stone is not only easy to install but comes in three great styles and multiple colors.
They heard lots of success stories including one about a 12-year old that did a great job installing a Fusion Stone wall all by himself.
Pictures which tell stories of how people had a great time learning about and experiencing Fusion Stone was shared on the company's
website
. The company is already looking forward to the 2018 version of the Fusion Stone Demo Tour.
But you don't have to wait till then so says Fusion stone. Fusion Stone is sold at over 1,500 building supply locations across Canada. Visit fusionstone.ca to find a dealer near you and discover for yourself what a perfect solution Fusion Stone can be for new or renovation projects, both interior and exterior.
The company will be looking forward to seeing you next year!
Fusion Stone
281226 Shouldice Block Road
Shallow Lake, Ontario
N0H 2K0 CANADA
Telephone: (519) 935-2771 ext.224 or (800) 265-3174
Email:
fusion@shouldice.ca