Intrafocus announces the availability of Scoreboard Version 3.1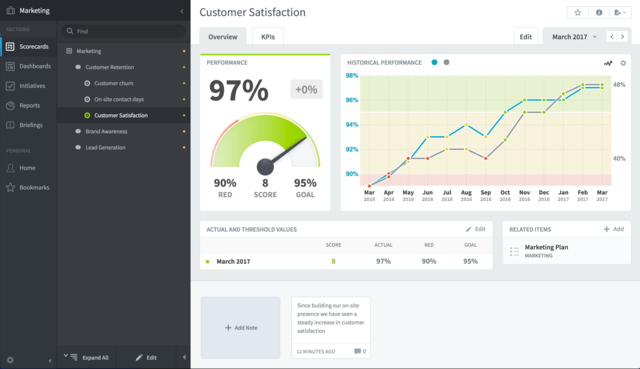 Scoreboard Version 3.1
, the world acclaimed* KPI management software is available. Many of the functions in the existing product have been re-written from the ground up to take advantage of new technologies. The software, used by the most successful companies in the world is now better than ever.
The most significant Scoreboard improvements are:
Enhanced User Interface
- By taking advantage of decades experience in this field, Scoreboard developers have created a sophisticated, modern user interface that presents exactly what users need. They have gone for a more-is-less approach highlighting the most important aspects of KPI management and pushing to the background those things that are useful, but not always required.
"The interface is absolutely stunning," says Clive Keyte, Director of Intrafocus, the EMEA reseller of Scoreboard. "The most important information is readily available and the rest is really easy to find."
Full Mobile Capability
- The application is fully mobile compliant and capable. Taking advantage of all the latest mobile technologies, the interface is truly responsive and simple to use with any device.
Shared Dashboards
- Dashboards can be displayed anywhere. For example, on large screens in public areas or on a private company Intranet. This way casual users who need information do not need to login to find what they need. The information can be delivered directly to them.
Alerts
- Users of the software can set up alerts on many objects in the application database includes changes to KPIs, Objectives or the addition of notes. The alert will send an email to the user describing the changed situation.
A list of features can be found on our
KPI Software
pages. To examine the product yourself you can take out a free 21-day trial. Just fill in the form on the website.
* The application has been rated as a 5 Star software product by Capterra through multiple customer surveys.