Hertz Furniture Announces Winner of Flexible Learning Area Giveaway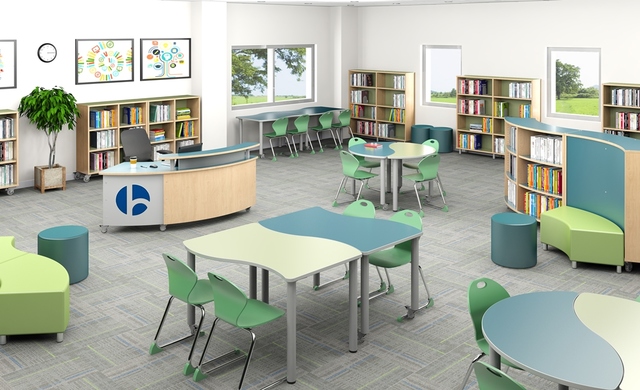 Hertz Furniture, the premier education and workplace furniture dealer, has announced Doral Academy of Colorado as the winner of its recent Flexible Learning Area Giveaway. The school has won a customized package containing 61 pieces of colorful furniture including collaborative tables, ergonomic chairs, soft seating, mobile book shelves, and a personalized teacher's desk. The package includes custom room design, delivery, and installation, and is valued at $42,000.
The Doral Academy curriculum focuses on learning through arts integration. This unique approach nurtures the whole student, meeting the unique needs of each individual child. A few short years ago the Doral Academy of Colorado started as the dream of a few parents and it has now blossomed into a full-fledged charter school. Upon finally moving into a permanent space for the 2017-2018 school year, the newly-furnished flexible learning area designed by Hertz Furniture is an especially appropriate addition.
"We are extremely excited that we won," said Principal Arley Blanco, "I feel the Flexible learning area is going to be a new, innovative, and exciting learning experience for the students." The new furniture will be used for the first grade students, helping them maximize their learning potential.
Hertz Furniture offers several
flexible learning area starter packages
, providing everything a school needs to furnish 21st century learning spaces. The discounted, all-in-one pricing provides a budget-friendly option for furnishing classrooms, media centers or learning commons areas. These new packages allow any school to enjoy the benefits of flexible, versatile furniture.
"We feel privileged to know that students will be learning better, with the help of our expertise and collaborative furniture," says Hertz Furniture President David Mocton. "We've seen what a game-changer flexible furniture can be for students and teachers, and are inspired by the efforts of our country's schools to provide the best education to all of our students."
About Hertz Furniture: Hertz Furniture is the furniture dealer of choice for education, business, government, and religious institutions nationwide, providing quality furniture and superior customer service for more than 50 years. Lifetime warranties, complimentary interior design & project management, fast quotes, and quick-ship products are just a few of the ways that Hertz Furniture has been providing added value to its customers.
For additional information on Hertz Furniture and its extensive line of products and services, please visit
HertzFurniture.com
or speak to a furniture specialist at 800-526-4677.