Spectrum Technologies Featured Amongst The Top 20 IBM Solution Providers in 2017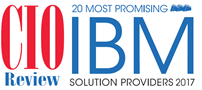 October 2, 2017 - Spectrum Technologies, a leading provider of Sales Performance Management (SPM) and Incentive Compensation Management (ICM) solutions, has been recognized by CIOReview magazine as one of the 20 most promising IBM solution providers in their latest IBM special edition. This recognition comes as a result of Spectrum's proven success in the SPM space, along with their commitment to customer service excellence and their ability to build strong client relationships.
Over the years, many solutions providers have responded to industry challenges by partnering with IBM and utilizing their tools to successfully address the issues faced by clients. CIOReview's editorial board, along with a distinguished panel of top executives, VCs and industry analysts scrutinized and arrived at this list of top IBM solution providers to help companies find the right IBM solution provider for their enterprise.
The decision was based on a multitude of factors, and the providers chosen were those that not only had a distinct and clear methodology, but also offered outstanding customer service in their space. These providers have a proven track record of helping clients maximize their IBM application capabilities and ROI.
Spectrum Technologies has been an early stage partner of IBM in the SPM landscape. The company's domain expertise along with its rich industry experience has enabled several mid - large enterprises to automate their SPM and incentive compensation operations through value-driven partnerships with IBM. When asked about his experience of working with global sales organizations, Maneesh Gupta, Founder and Managing Partner of Spectrum Technologies stated, "Today, organizations demand more than just accurate commission statements delivered on-time. Organizations are striving for visibility, analysis, and oversight into the entire compensation process to know what's working and what's not."
Customers consider Spectrum a trusted advisor and an expert in the SPM space. Farhan Abbasi, Manager, Global Sales Compensation Administration at Seagate Technology – one of Spectrum's oldest clients has this to say about Spectrum "I really appreciate the fact that their management is focused on making us a success, instead of maximizing their consulting revenue."
To learn more about Spectrum Technologies, please click
here
.
To read the article in month's edition of CIOReview magazine please click
here
.
About Spectrum Technologies
Spectrum is a technology and business consulting firm offering specialized services in the area of Sales Performance Management (SPM) and Incentive Compensation Management (ICM). Spectrum helps organizations both in end-to-end holistic SPM solutions and in specific tactical areas like Quota Management, Territory Management, Reporting/Data/Business analytics and Configuration/Price/Quote (CPQ). Spectrum's Sales Performance Management (SPM) team consists of technology and business professionals, each with multiple years of expertise in analysing, implementing and supporting on premise and cloud based SPM solutions.
Email Spectrum Technologies LLC.