Over 1,500 Personal Finance Experts and Enthusiasts to Gather at FinCon, "the Comic-Con of Money," in Dallas this October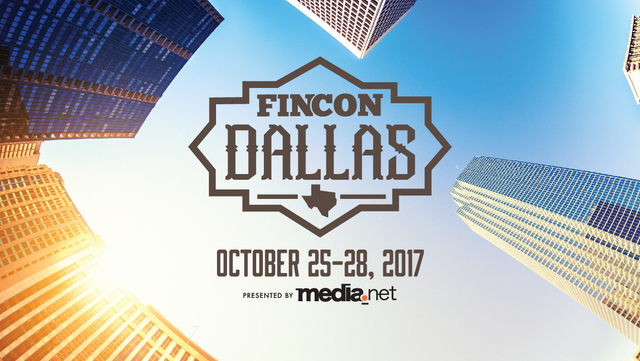 October 10, 2017 - FinCon, the premier personal finance digital media and marketing conference, is pleased to announce it will be hosting over 1,500 "money nerds" at its seventh annual event in Downtown Dallas this October 25-28.
The four-day event will feature education sessions, an expo hall, an award show, and the following keynote speakers: best-selling personal finance author David Bach, social media pioneer "Problogger" Darren Rowse, and up-and-coming entrepreneur/teacher Nicole Walters. Rap artist Dee-1 will also give a performance of his hit song "Sallie Mae Back."
Notable personal finance media companies Nerd Wallet, The Penny Hoarder, and Bankrate will attend. The conference also includes live podcasting and video showcases from top-ranked digital personal finance shows like Stacking Benjamins and The Financial Diet.
Attendees will discuss cutting-edge money topics like financial independence and early retirement, side-hustles, universal basics income, and award travel. However, the majority of the programming is centered around digital media and marketing topics like blogging, podcasting, Youtube, social media, digital product creation, and digital ads.
More than 100 sponsoring organizations and exhibitors will participate. Key partners include leading global advertising technology company Media.net, and Ally, industry-leading online bank and brokerage, which has been involved with the conference since its inception.
Head of Global Marketing at Media.net, Melody Gambino, says "Media.net is extremely pleased to be the principal sponsor of FinCon this year and host an amalgam of some of the most talented and successful content creators and voices in the personal finance space. It's exciting to join forces with them and we hope to empower everyone in attendance with information and tools they can apply to chart their own growth story."
"Ally is pleased to be supporting FinCon for the third year in a row, and taking part in an event that brings together so many personal finance influencers," said Andrea Riley, chief marketing and public relations officer at Ally. "Ally is highly focused on the financial well-being of our customers, and this event provides ample opportunities to collaborate with social and digital content creators as we pursue our mission of empowering consumers with digital financial services and knowledge."
For the first time ever, FinCon is opening their doors to the general public for one afternoon of the event. This "event within the event" called Your Money Live! will serve as a low-cost way for the financial influencers of FinCon to invite their audiences to Dallas to meet up and experience the financial education-focused portion of the event.
The FinCon community participates in one community service event each year and will focus their 2017 efforts, in partnership with the National Endowment for Financial Education, on relief being given to people affected by Hurricane Harvey.
FinCon will also bring back the FinTech Startup Competition for the third consecutive year, in which FinTech companies present and compete for media mentions and $1,500 in cash prizes. This year's competitors include the Dallas-based startup Take Command Health, and new debt payoff app, Qoins.
Registration for FinCon and Your Money Live! is currently open, with regular tickets available for $469 and Pro Pass tickets available at $799. The pro-pass includes an extra networking session with speakers and panelists and "pro networking" with brands. Tickets to Your Money Live! are $39.
FinCon is the world's largest [Fin]ancial [Con]tent Expo. Launched in 2011 as the Financial Blogger Conference, FinCon ('fin 'kän) has since expanded to include all of the most influential digital and social content creators in the personal finance space. FinCon is owned and operated by PT Money Conferences, LLC, a Frisco, TX-based company. For more information about FinCon, visit
www.FinConExpo.com
.
For more information about Your Money Live!, visit
YourMoneyLive.com
.
Attachments