Veteran Artist Participating In Open Studios San Diego Donating 30% Of Sales To Charity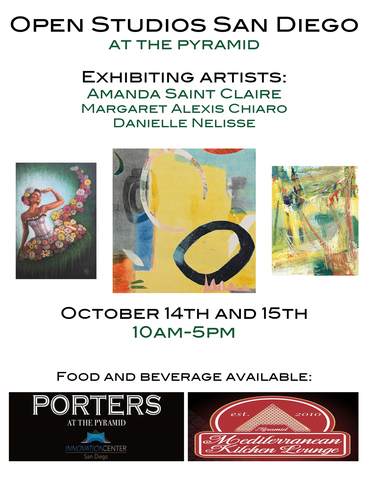 Contemporary Artist and Navy Veteran Amanda Saint Claire is opening the doors of her studio at the iconic Pyramid Building located at 7310 Mira Mar Road this weekend to showcase some of her paintings, Monoprints, and drawings and to raise funds for humanitarian efforts.
When you first meet local artist Amanda Saint Claire with her hair stripped pink or sometimes completely pink, military veteran might not be the first thing that comes to mind, but not only is Amanda a veteran she is also the spouse of an active duty officer, a Tulane Law graduate, member of the Colorado bar and the mother of three. "I find that people are quick to judge who I am and my background, but like all judgments they tend to be wrong."
Amanda Saint Claire is participating in San Diego's Third Annual Open Studios sponsored by Patric Stilman's Studio Door in North Park. County wide 100 artists will be opening the doors of their studios to raise awareness about their work and hopefully sell directly to first time buyers and seasoned collectors.
Amanda is primarily a self taught artist. She was chosen to spend a year in the Creative Visionary program run by San Francisco based artist Nicholas Wilton and cites that as an incredibly growth experience. A seasoned traveler, Amanda has lived on three continents and on 3 coasts of the United States after growing up in a blighted steel town in Western Pennsylvania. Amanda's art work is informed by her travels, living abroad, her role as mother, and her work as a attorney. Her sense of humor and the effortless with which she works with color has caught the eye of art professionals from coast to coast.
New York City art coach Renee Phillips recently said "Thank you for creating art that always makes me smile. You combine a child-like spontaneity with sophisticated compositions and expert color arrangements."
Amanda has exhibited in regional and national shows, and is a multiple time award winning artist. Her work can also be seen this fall at Art on 30th's Ashton Gallery's national show, "Orange is the New Black" opening October 21st, the Studio Door's Open Studio Group Show, Sparks Gallery's show "Wanderlust" opening November 4th, and as a part of the Oceanside Museum of Art's show "Transcendence" at Front Porch Gallery in Carlsbad opening November 19th. You can see more of this emerging artist's work at
www.amandasaintclaire.com
or by private appointment at her studio.
Amanda and her husband have dedicated their lives in public service and to that end she will be donating 30% of her direct sales (outside of gallery shows) this fall to charities that support humanitarian relief and education support."I can't sit by with folded hands while millions suffer. This is my way of reaching out a hand to help and it keeps me focused on my task of bringing more joy to the world one creation at a time. I could tell my children you can make a difference in the world or I could show them." You can reach the artist directly at
www.amandasaintclaire.com
.
A huge fan of collaboration, Amanda has invited fellow artists Margaret Chiaro,
www.margaretchiaro.com
and Danielle Nelisse,
www.daniellenelisse.com
to show with her at the San Diego Innovation Center, housed inside the iconic Pyramid Building at 7310 Mira Mar Road. The event kick off with Friday the 13th event 4 pm - 7pm and continues Saturday and Sunday October 14th-15th from 10 am to 5 pm. Food and drink available for sale by Porters and Mediterranean Kitchen Lounge. Free Parking and Uber on location.