New Radio Show Explores Criminal Justice from the Inside — and Out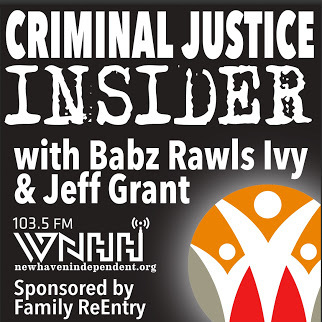 The airwaves are open to discuss Criminal Justice - from the Inside. A new show,
Criminal Justice Insider
, co-hosted by WNHH-FM's
Babz Rawls-Ivy
and Family ReEntry's Executive Director,
Jeff Grant
, takes a unique perspective on all issues of the justice system, including the effects of incarceration and the challenges faced by ex-offenders.
A major intrigue of the program can be found in the personal background stories of the show's co-hosts. Rawls-Ivy and Grant have both served prison sentences. As ex-offenders, they are well aware of the challenges, inside and outside, of the legal system and the prison system. They are also both examples of success and hope for others.
The show, which debuted last Friday, welcomed a much larger than expected audience, and WNHH immediately doubled its originally scheduled programming. Criminal Justice Insider is now slated for a full hour at 9:00AM on the first and third Fridays of each month.
Rawls-Ivy, who is also the host of WNHH's daily "LoveBabz LoveTalk," and editor of the Inner City News, proclaimed, "Jeff and I have talked about doing something like this for a while. When we pitched the topic to the station, we presented so many aspects that affect so many people, not just in Connecticut but all over the country, the content designed itself."
As the executive director of
Family ReEntry
, a social service organization in Bridgeport that works with individuals and their families who have been directly impacted by incarceration, Grant is a perfect complement to the show. "This show is important because we go deep into the personal challenges and successes that individuals, families and whole communities experience. There are not many places that welcome and encourage the authentic, vulnerable side of the criminal justice experience."
The next broadcast of Criminal Justice Insider will be on Friday, November 3rd with special guest, Connecticut State Representative from New Haven, Robyn Porter. Upcoming live shows will feature lively discussions from a series of different guests, such as Connecticut Department of Correction Commissioner Scott Semple, Katal Center Co-Executive Director Lorenzo Jones, Carlah Esdaile-Bragg of Cornell Hill Scott Health and Marcus Bullock of Flikshop, along with many others.
Working in affiliation with local news source,
The New Haven Independent
, a recap of each Criminal Justice Insider show and a preview of upcoming shows will be published. For anyone who hasn't already heard the program, the debut broadcast is now available in its entirety on
SoundCloud
and to keep up with the topics of discussion, a Facebook page has also been set up at
Criminal Justice Insider
.
More about Family ReEntry:
Family ReEntry is a 501c3 nonprofit, which was founded in 1984 as a reentry support group for men at the Isaiah House in Bridgeport. It has since grown to include policy advocacy, and intervention, prevention, in-prison, reentry, fatherhood and youth & family programs. Over the past 33 years, effective advocacy efforts and community-based programs developed by Family ReEntry have significantly reduced the likelihood that clients will re-offend, be re-arrested, or be re-incarcerated. Its programs provide a spectrum of services designed to disrupt the intergenerational cycle of incarceration. Family ReEntry addresses the specific needs of each client and their families through individualized case management and support services. It works to create a positive social network for each client, helping make their transition from prison back into the community a successful, self-sufficient one, while strengthening their families and the community. Family ReEntry operates its programs in strategic locations that encompass eight municipal regions and judicial geographic areas, two parole districts and five prisons. Approximately, sixty-percent of those served by Family ReEntry are from greater Bridgeport – Connecticut's largest city. The organization has offices in Bridgeport, Norwalk and New Haven, CT. Programs are also held in Stamford, Waterbury, Derby, New London and Norwich, CT. More information is available at
www.familyreentry.org
and on its social media including,
Facebook
,
Twitter
,
Pinterest
,
Instagram
and
YouTube
.
Attachments