The Economy: What's Next Versus What's Now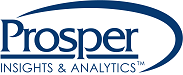 October 19, 2017 - Prosper Insights & Analytics™ and e−forecasting.com today launched a set of New Consumer Confidence (NCC) predictive analytics. NCC spawns from Prosper Insights & Analytics' monthly consumer sentiment survey, which is the largest in scope and size in the US by calibrating information related to consumers' confidence on the economy. e−forecasting.com's unique econometric models use this data to accurately predict the performance of the US economy more than six months in advance.
Key features of the monthly NCC predictive analytics include:
NCC is released at the start of the third week of each month, providing real-time data for that month, making it the earliest available indicator of consumer confidence.

NCC offers improved insights of consumer behavior in relation to consumers' expectations about the economic climate, with its consumer data derived from Prosper Insights & Analytics™ Monthly US Consumer Survey, which includes over 7,000 US 18+ respondents, tracking how consumers feel about the economy, shopping behavior, future purchase intentions and more. Over 290 public companies are tracked by the survey. In addition, over 1,200 brands tracked (~700 public, 500 private).

NCC has a significant advantage and track record of accurately predicting upcoming slowdowns and booms in the US economy with its analytic ability to predict recession probabilities.

NCC is used to derive a Consumer Optimism forward-looking analytic, which computes the gap between current and expected growth in GDP.

NCC segmentation provides four additional forward-looking predictive analytics tracking monthly consumers' intentions to buy big ticket items – six months into the future. Four key groups of major purchases are reported monthly in the national set of NCC: furniture, appliances, electronics, and cars.

In addition, the NCC national set offers two housing related forward-looking consumer predictive analytics. The first, consumers' intentions to buy a house over the next six months, the most important asset purchase consumers make in their life time. The second covers a home improvement measure to determine if consumers intend to invest in their homes over the next six months.

NCC, the headline consumer confidence measure, expressed in growth rates and indexed to equal 100 when growth is nil, decreased 0.1 percent points in October to a reading of 109.9, after falling (-0.1 percent points) in September. "The level of and change in economic confidence expected by consumers foreshadow that the United States' growth business-cycle will be in its slowing down phase six months from now," said Maria Sogard, CEO of e-forecasting.com.

"The various NCC indices can be of great value to every business sector. Retailers and brands need an accurate, advanced notice on the economy for business planning," said Gary Drenik, CEO, Prosper Insights & Analytics. "Those in the manufacture or sale of durable goods can benefit from a greater understanding of consumer purchase intentions over the next six months for autos, appliances, electronics, and home buying."

"Financial service firms can embed the analytics in their models for an enhanced view of the economy and even detailed subsets, such as gender, age, or geographic regions," said Drenik.

Looking at consumers' buying intentions over the next six months, an important highlight in October is a solid reading in the consumer predictive analytic which measures consumer plans to buy cars. "In October, the consumer intentions index for purchasing cars is 14% higher than in October of last year," said Evangelos Otto Simos, Professor at the University of New Hampshire and Predictive Analytics Database Editor for e-forecasting.com." In the last seven months, the readings of the index ranged between 122 and 124, a robust performance compared to a reading of 106.9 in October of 2016," Evangelos added.

To view a complimentary October 2017 example of the NCC indices in an InsightCenter, click here. To view the complimentary October 2017 PDF report, click here.

Going forward, the NCC will be available for purchase in an InsightCenter, as a PDF, or in Excel format. Additionally, the data can be fed for those using it to better inform models.

About e-forecasting.com
e−forecasting.com, an international economic research and consulting firm with over 15 years experience forecasting markets throughout the world, offers predictive analytics and forecasts of the economic environment using proprietary, real-time economic indicators to produce customized solutions for what's next. e−forecasting.com collaborates with global partners and data-providing organizations to provide timely predictive intelligence to strengthen its clients' competitive advantage.

About Prosper Insights & AnalyticsTM
Prosper Insights & Analytics is a global leader in "consumer intent" data serving the financial services, marketing technology, and retail industries. We provide global authoritative market information on US and China consumers via curated insights and analytics. By integrating a variety of data including economic, behavioral and attitudinal data, Prosper helps companies accurately predict consumers' future behavior to help identify market behaviors, optimize marketing efforts, and improve the effectiveness of affiliate, mobile, email, print, and social-media demand generation campaigns. To learn more: www.ProsperInsights.com

Contact:
e-forecasting.com
Maria Sogard, CEO
maria@e-forecasting.com
603-868-7436

Prosper Insights & Analytics
Chrissy Wissinger, Director, Communications
chrissy@goProsper.com
Stacie Nelson, Director, Customer Success
stacie@goProsper.com
614-846-0146
Email Prosper Insights & Analytics