The Dog Kennel Collection by Bird-in-Hand Pet Structures, Gets an Online Facelift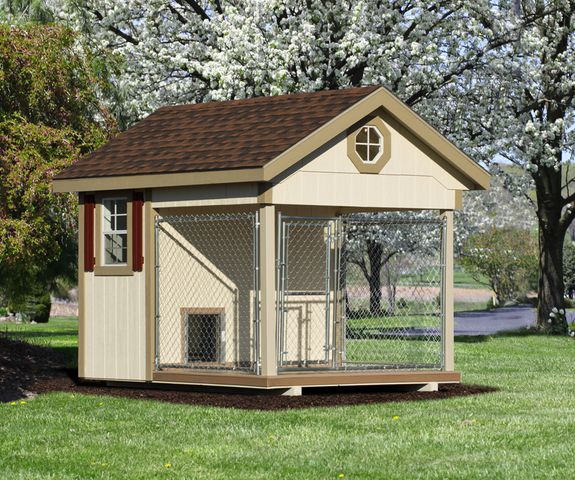 Dog lovers who want to create the perfect outdoor dog kennel for their dogs, now have a new view of what is possible. Bird-in-Hand Pet Structures of Willow Street, PA launched their new
Dog Kennel
website to help people from around the USA find a perfect home for their pets.
According to the newly launched website "Dogs everywhere are barking for the Dog Kennel Collection," and to no surprise. When one stumbles across the website they see amazing possibilities for making a dog kennel, built by the Amish in PA, a true haven for their dogs.
Outdoor Dog Kennels
from this manufacturer offer many choices in paint or stain colors, insulation, interior finish, plumbing, heating and much more.
Not only are the options for the portable dog kennels extensive, the uses of Bird-in-Hand Pet Structures range from the simple one dog Residential Outdoor Kennel that can be tucked neatly into a corner in the backyard, to multiunit
Commercial Dog Kennels
which work well for pet shelters or dog breeders who want to give their canines a luxurious home.
Since 2007 Bird-in-Hand Pet has been providing quality outdoor dog kennels for residences and businesses across the USA. Kennels built in Lancaster County have been shipped as far as California and used by homeowners, dog shelters, dog rescue centers, K9 Units at police stations and dog breeders across the continental USA. The new dog kennel website offers a turn-key solution to a beautiful home for dogs of any size.
To get started, online visitors are invited to download a
beautiful catalog
featuring multiple dog kennels as well as the option to find their closest dealer. Anyone can then request a free quote for the dog kennel of their needs.
Bird-in-Hand Pet Structures has a network of over 100 dealers scattered across the USA. Anyone coming to the website who does not have a dealer in their local area can work directly with the dog kennel manufacturer in Lancaster PA.
E-Impact Marketing of Lancaster, PA
was hired to build the new website and continue to grow the impact and reach of Bird-in-Hand Pet Structure's online exposure. The new marketing push will increase leads to existing dealers, grow their network of dealers as well as market dog kennels direct in areas where Bird-in-Hand Pet Structures has no dealers.
Email Bird-in-Hand Pet Structures