Why Are Mailing Houses So Beneficial? bakergoodchild Reveal All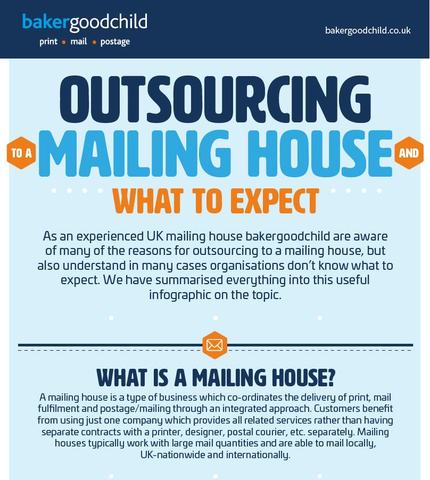 November 14, 2017 - "Despite living in an increasingly digital age, direct mail is more prevalent than ever. While emails and other forms of electronic marketing still remain important pieces of communication, it has become a crowded marketplace, and one which can be hard to stand out in. Mailing houses, on the other hand, offer an effective way to separate your business from the noise" explained Lorraine Burnell, the Managing Director at bakergoodchild.
Operating as Birmingham's leading mailing house, we spoke to Lorraine in greater depth about their
newly released infographic (Outsourcing to a Mailing House)
, explaining just why these services can be so beneficial.
"If you're unfamiliar with mailing houses and the services that are provided, it's easy to think that we simply post your mail for you! But, in truth, a mailing house is so much more than just a mailing centre, or a house for that matter! A good mail fulfilment house will offer a holistic range of services to their clients, helping them with projects from conception to completion" explained Lorraine.
She continued "for instance, at bakergoodchild, we help with the planning of campaigns, the managing of your data to ensure you are targeting the right people, as well as the printing, packaging and posting of any mail. We even help with the personalisation of any campaign that you want to run."
In fact, personalising a direct mail campaign, or any marketing campaign for that matter, is absolutely crucial in order to achieve success.
bakergoodchild previously found that personalisation
can lead to 14% higher traffic generation, and a 7% higher conversion rate.
This
supports a report published by Accenture
, which found that 75% of consumers are more likely to shop with a brand that personalises their shopping experience.
"The wide range of services that we, and many other mailing houses provide, can help create a robust, successful and highly effective marketing campaign. We commonly get asked whether there is a need for this when emails are so prevalent, but in truth, direct mail and emails aren't that similar in nature" said Lorraine.
"In fact, in many ways" she continued "direct mail offers its users a greater degree of freedom and flexibility. There are different variations you can use, such as postcards, interesting shapes and colours, or even the inclusion of sample products, all to capture the attention of your prospective customer."
Alongside this, direct mail and the services of mailing houses still remains high. In 2016,
businesses spent more than £1.5 billion
on the use of direct mail, and this even includes household names such as Google.
Further to this, there are clear benefits to using this form of physical marketing.
The Direct Marketing Association found
that using this form of advertising has a ROI of £3.22 per every £1 spent, as compared to the £3.12 per £1 that is returned when using online forms of marketing.
So, clearly there are benefits to using this medium. But, aside from the range of services that a mailing house offers, are there any additional benefits over conducting this campaign yourself?
"Yes, there are many other ways in which a mail fulfilment house can help businesses to cut costs, improve efficiency, and boost revenue. Those who will be leading the campaign in the mailing house are industry experts, and their unrivalled knowledge can really help to give your business that competitive edge. And, using this expert knowledge, those who help you with your campaign will ensure that any data used remains high quality and relevant to the audience." explained Lorraine.
"Furthermore, they will help you to stay fully compliant with all rules and regulations, to offer access to state-of-the-art printing equipment, and to allow you to make use of their mailing partnerships. A good mailing house will have connections around the world, and this will ensure that you are able to make use of the quickest and most efficient routes, and for the cheapest cost too." said Lorraine.
"Finally," she finished, "you can enjoy additional benefits from many companies, such as an environmentally-friendly approach which will ensure that all campaigns are conducted in a green manner. When you take these benefits, along with the crucial advantage of cost and time savings, it really is a no brainer if you're looking to expand your customer base through direct marketing."
Would you like to find out more about the services that bakergoodchild offer and how they can help your business? You can find more on their services page
here
, or you can get in contact with them directly at:
info@bakerg.co.uk
.
Contact information
bakergoodchild -
https://www.bakergoodchild.co.uk
Windsor Industrial Estate
6-7 Rupert St
Birmingham
B7 4PR
Telephone: 0800 612 1972