Prosper Insights & Analytics Releases "Holiday 2017: Top Trends" at Morgan Stanley Global Consumer and Retail Conference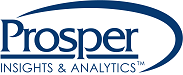 Prosper Insights & Analytics, a leading provider of advanced business intelligence, released the Holiday 2017: Top Trends at the
Morgan Stanley
Global Consumer and Retail Conference this week. Pam Goodfellow, Principal Analyst for Prosper, presented unique trends that are emerging this holiday season.
While the presidential election clouded last year's holiday spending sentiment, shoppers seem to be in a better mindset to spend for holiday 2017. This year, planned spending per person on items such as gifts, décor, cards, foods, flowers, and self-gifting is
expected to be $967
, compared to shoppers' plans of $936 last year.
"With the holiday spending outlook looking brighter this year, economic sentiment on the rise, and shoppers feeling more stable financially compared to a year ago, this may be a pivotal year for the battle between Amazon and the rest of the retail industry," said Pam Goodfellow, Principal Analyst for Prosper. "With the majority of planned holiday spending shifting online this year, though, retailers will have to provide shoppers with a seamless digital experience if they want to even attempt beating Amazon to the punch."
Holiday 2017 Top Trends
Spending Looks Upward
For holiday 2017, shoppers plan to spend $967 on gifts, décor, greeting cards, food, flowers, and self-gifting, up 3 percent from last year's $936 budgets. While Prosper estimates that actual spending reached $987 for holiday 2016, consumers are headed into this shopping season with much better mindsets, indicating that they may be poised and capable of spending beyond their initial budgets.
Shoppers Focus On Home
While gift spending plans have specifically risen 3 percent over last year's expectations, consumers seem more focused on experiencing the season at home: plans to spend on decorations, food, flowers, and greeting cards have increased a bullish 5 percent over 2016. With retailers offering aggressive sales and discounts year-round, self-gifting during the holiday season may be losing a bit of its luster, rising just 1 percent year over year.
Gen X Is Generation Now
While they are generally lost in the middle of Boomers and Millennials, Gen X is the generation that cannot be ignored this holiday season. The average Gen X-er plans to spend $1,112 on the holiday this year, higher than Boomers ($1,009) and Millennials ($788). Gen X is also expected to account for 34% of total gift spending this year, exceeding expectations for other cohorts as well.
Millennials Are Generation Next
Certainly not to be overlooked, planned gift spending among Millennials has risen an average of 9 percent per year since 2011, outpacing Boomers (5 percent), Gen X (3 percent), and the Silent generation (1 percent).
Online Eclipses In-Store
For the first time in our survey's history, consumers' plans to shop online (59 percent) outpace their intentions to shop department stores (57 percent) and discounters (54 percent). While "online" in this sense would include any dot com (such as Amazon.com or Walmart.com), it is clear that shoppers will be enjoying the holiday shopping season from the comfort of their couches this year.
Amazon's Prime Risk
The latest insights from our November survey of consumers indicates significant percentages of Amazon Prime membership among shoppers of competing retailers, and these figures are all on the rise compared to last year. Among the group of retailers analyzed, Costco members are the most likely to have Prime memberships (at 59 percent), while the majority of Target shoppers are also members of Jeff Bezos' not-so-exclusive club.
To download presentation materials,
click here
.
Prosper Insights & Analytics™
Prosper Insights & Analytics is a global leader in consumer intent data serving the financial services, marketing technology, and retail industries. We provide global authoritative market information on US and China consumers via curated insights and analytics. By integrating a variety of data including economic, behavioral and attitudinal data, Prosper helps companies accurately predict consumers' future behavior to help identify market behaviors, optimize marketing efforts, and improve the effectiveness of demand generation campaigns.
www.ProsperInsights.com
Contact:
Stacie Nelson, Director, Customer Success & Marketing
stacie@goProsper.com
Pam Goodfellow, Principal Analyst
pam@goProsper.com
614-846-0146
Email Prosper Insights & Analytics