The Countdown Has Begun For Ontology Network Launch in NYC on November 27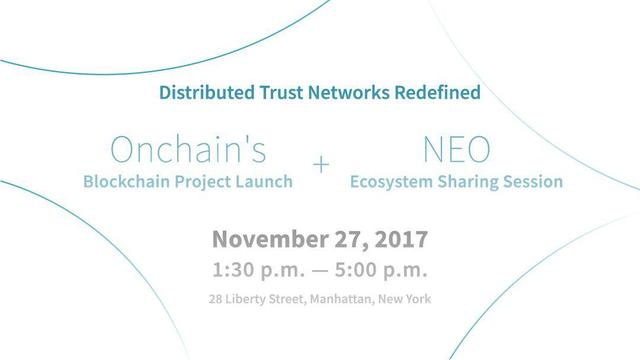 November 21, 2017 - New York City, NY.
- Blockchain and tech enthusiasts gathered in Shanghai on
Saturday, November 18th
as
Onchain
revealed their groundbreaking public platform Ontology. Now, the countdown has begun for the Ontology Network Launch in NYC. The event, created by Onchain, a leading blockchain R&D company, will take place next week, November 27th, 2017 at One Chase Manhattan Plaza, 28 Liberty Street, Manhattan, New York. Attendees are also welcome to RSVP to the evening China&USA blockchain meetup in Manhattan NYC organized by
NEO
.
"The event in Shanghai last week was a strong introduction to Ontology Network," said Hongfei Da, CEO of Onchain & Founder of NEO. "The New York launch will bring this exciting project to the world stage and further answer questions coming from within the industry."
This free event will attract world-class blockchain industry experts and investors as Ontology is the first project that will allow all business types, including those with little or no technical background, to easily use the blockchain technology in their systems.
"Ontology Network was received well at its preview in Shanghai," said Jun Li, Chief Architect of NEO. "We look forward to introducing to the global community the infrastructure for trust cooperation in the different scenarios that make up the Ontology trust ecosystem."
The Ontology Network Launch in NYC is scheduled for Monday, November 27, 2017 at 1:30 p.m. EST. The event's robust agenda includes other presentations such as Jun Li, Chief Architect of Onchain - A New Generation of Distributed Trust Networks, Alphacat, The Key, Q Link, Deep Brain and more.
Sign up here for the Ontology Network Launch in NYC:
https://www.meetup.com/Onchains-Blockchain-Project-Launch-NEO-Ecosystem-Sharing/events/245101761/
Sign up for the evening meetup here:
https://www.meetup.com/NEO-New-York-Meetup/events/245134204/
About Onchain
Onchain is a high profile Chinese blockchain startup that has received international media attention for its leadership in the blockchain industry. Now with their new product launch, Ontology Network uses distributed identity verification, data exchange, communities, and other industry-specific features along with a robust smart contract protocol to build an unparalleled trust ecosystem. Ontology will continue to provide support for additional protocols and modules, welcoming further distributed business scenarios.
Email MLG Blockchain Consulting