Junior Park NOW OPEN!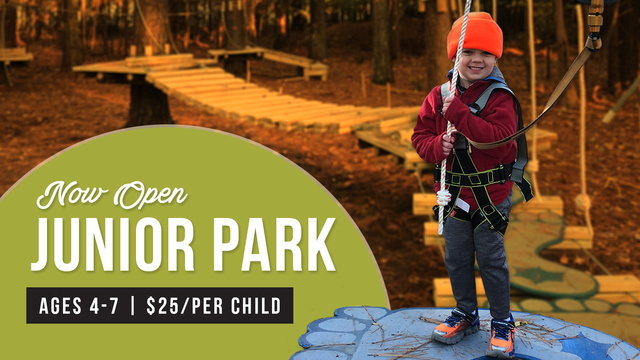 November 23, 2017 - TreeRunner Adventure Park is an exhilarating high ropes and zipline obstacle course set in a beautiful pine forest situated in North Raleigh. Previously, the park had only been accessible for kids 7 and up. However, a great addition has been made in order to accommodate younger kids, ages 4-7 years old to allow them to also adventure in the trees!
The park is conveniently located on the campus of the Raleigh-Cary Jewish Community Center off of Norwood and Old Creedmoor, just north of the 540 highway. For the holiday weekend following Thanksgiving, we will be open Friday through Sunday, with a special Black Friday special of 30% off all tickets, including for the Junior Park for all Friday climbing tickets..
The Junior Park is a combination of suspended climbing obstacles only a few feet off the ground. Our state-of-the-art course follows very specific safety standards, holding to both standards set forth by Association of Challenge Course Technology and American Society for Testing and Materials. With our continuous belay system, climbers stay securely clipped in while enjoying a self-guided experience. This course is incredibly easy in order to be a great experience for those who likely haven't climbed before, but still give them some challenge and adventure while being closer to the ground.
To book your experience in advance today, please visit our website. Once arriving at the park, you will walk through a group training session where climbers are fitted with a harness and a park guide will walk through how to clip to safety cables, obstacles and ziplines.
Tickets are $25 per person and give climbers 2 hours of time in the park. Group discounts are available for groups of 5 or more. This TreeRunner Junior Park is ideal for school groups, camps, scouts, birthday parties, track out activities, and any other adventure-seeking kids!
TreeRunner Adventure Park Raleigh is North Carolina's newest Adventure Park. Please check the park out at
www.treerunnerraleigh.com
to book your climbing session today! Please email
soar@treerunnerraleigh.com
or call (919) 410-7347 for questions or group inquiries.
Email TreeRunner Adventure Park