ConsuNova Inc. and Rapita Systems Ltd. announce expanded bilateral partnership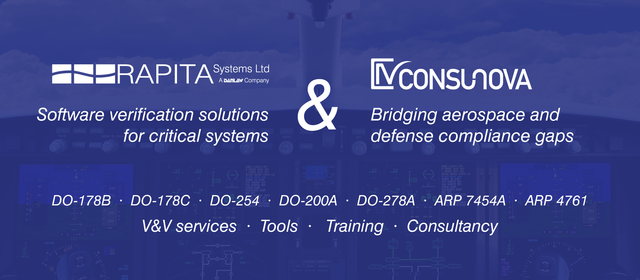 San Diego, CA November 28, 2017 - ConsuNova Inc. and Rapita Systems announce an expanded, bilateral partnership
Reach us for proven, optimized and practical DO-178C training workshops:
https://www.consunova.com/do178-training
https://www.rapitasystems.com/training/DO178C
ConsuNova, Inc. consistently invests in updating its proprietary DO-178C and DO-254 training material with a singular goal: to ensure that all content is relevant, practical, optimized and presented in a clear and memorable style. With the same focus on optimization, ConsuNova continually refines its proprietary
Avionics Gap Analysis
techniques, DO-254/DO-178C process
templates and checklists
,
FAA/EASA consulting certification services
and tools. ConsuNova measures its progress by collecting real client feedback and project performance metrics, and attends important industry events to serve clients.
Mr. Reza Madjidi, CEO of ConsuNova, Inc. adds, "Our organizations began collaboration in response to a mutual customer searching for an optimized path to DO-178C certification. ConsuNova's certification solutions and leading subject matter experts combined with Rapita's efficient verification technologies provided a solution unavailable elsewhere. This alliance will provide wider access to our combined practical solutions, and a seamless customer experience and enhanced support for our customers."
Rapita Systems is on a path of rapid growth. Its smart investments in technology and pursuit of the most robust solution, rather than the quickest one to achieve, have enabled Rapita to expand quickly in recent years. At Rapita, quality is paramount. Its software verification tools and services provide efficient solutions to the most complex problems encountered while verifying critical software, particularly in compliance processes such as DO-178C/DO-254 and ISO 26262.
"This partnership will provide direct benefits for our customers seeking DO-178C compliance solutions. The combined offering will enable us to provide a comprehensive solution throughout the DO-178C process. Adding From tools and testing services to process review and advice, we're now able …." said Dr. Guillem Bernat, CEO of Rapita Systems, Ltd.
A key mission of both organizations is to provide high-quality, efficient solutions, and use cutting-edge technology to achieve this. Having identified this common mission, ConsuNova and Rapita Systems engaged in a collaboration agreement in February 2016. Following from the results of this cooperation, including joint provision of DO-178C/DO-254 compliance workshops, expansion of the partnership is a natural evolution. By working more closely together, ConsuNova and Rapita aim to provide comprehensive solutions to aerospace and defense customers throughout the DO-178C/DO-254 project lifecycle.
We look forward to seeing what the future will bring.
ConsuNova
——————————————-
Mike Smith, VP of Business Development
+1 858-444-6762
www.ConsuNova.com/contacts
Rapita Systems
——————————————-
Dr. Guillem Bernat, Chief Executive Officer
+44 (0)1904 413945
www.rapitasystems.com/contact