Fusion Stone Offers Product Update You Can Install Yourself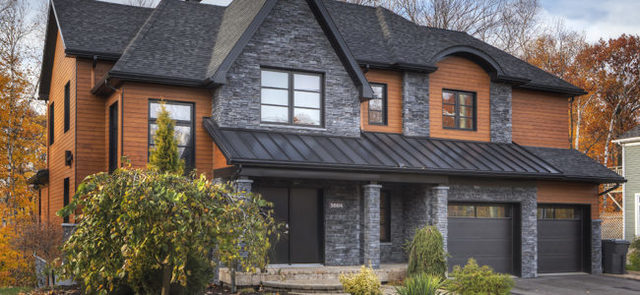 Fusion Stone have rolled out a range of products, that you can easily install yourself, to meet just about every desire. Having such choice though can make it a little difficult to decide which option to choose. Here's a handy update of all
Fusion Stone veneer products
.
Dry-Stack:
As the name suggests,
Dry-Stack stone veneer
is another mortar-free option from Fusion Stone. Offering a less rugged look than Great Lakes, Dry-Stack might be considered to be more subtle and nuanced but every bit as good looking.
Available in two colours (Caramel and Charcoal), this stacked stone veneer is easy to install and perhaps a conservative, more understated choice for properties in urban surroundings.
Dry-Stack discreetly modifies the existing look of your property rather than dramatically changing it and is easy and clean to install anywhere, so says Fusion Stone.
Great Lakes:
Great Lakes stone veneer adds a timeless and traditional look to any and every property. The installation of the rugged, uneven stone pattern transforms any surface into a thing of beauty your friends will envy.
Install Great Lakes inside or outside
– it will look great on exterior walls, as a fireplace façade, backsplash or feature wall. However, you choose to use Great Lakes in one or more of its four stunning colours (Brindle, Carbon, Raven, Fawn) it is certain to enhance the current look of your house.
Easy to install with no mortar, Great Lakes is Fusion Stone's top selling option.
Peninsula Ledgestone:
According to Fusion Stone, the newest member of the Fusion Stone line up, Peninsula Ledgestone was developed to appeal to those looking for stone but with a decidedly contemporary look.
Peninsula Ledgestone is characterized by tightly stacked, variable length runs of moderate width; each run is somewhat offset from the next both vertically and horizontally. Available in two modern color choices (Cyprus, Grotto), Peninsula Ledgestone is the perfect way to make an up-to-date statement with the traditional strength and appeal of stone.
Accessories:
Fusion Stone is a complete system that includes finishing touches that will show off your project to its greatest advantage. Our creative accessory items include electrical outlet surrounds, exterior light faceplates, sills, window and door surrounds, sills, hearthstones and name/address plates, all of which integrate seamlessly into the overall design and complete your Fusion Stone vision.
Get with the system:
With such a range of products, Fusion Stone really is the complete stone veneer system. Whichever style you choose, the installation can be done anywhere, anytime, and on any surface. It is the DIY project you can actually do yourself, and all comes with the confidence of a lifetime guarantee.
Fusion Stone is sold at over 1,500 building supply locations across Canada. Visit fusionstone.ca to find a dealer near you and discover for yourself what a perfect solution Fusion Stone can be for new or renovation projects, both interior and exterior.
Fusion Stone
281226 Shouldice Block Road
Shallow Lake, Ontario
N0H 2K0 CANADA
Telephone: (519) 935-2771 ext.224 or (800) 265-3174
Email:
fusion@shouldice.ca