GrantStation Reports Atmosphere of Uncertainty for U.S. Grantseekers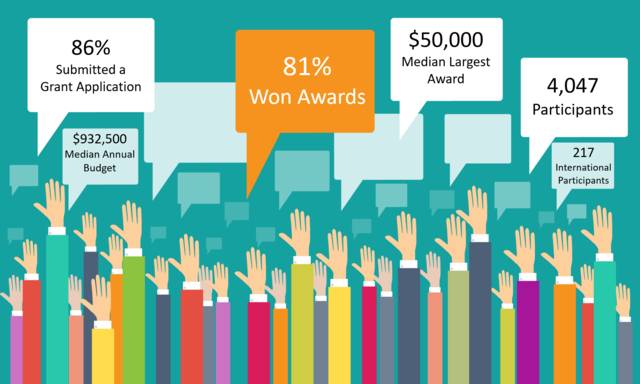 December 7, 2017 - Fairbanks, Alaska – "I think when 4,000 minds focus on a topic, you are bound to net some interesting, and I would say inspiring, information," said Cynthia Adams, CEO and Founder of
GrantStation
. The interesting, grassroots results of GrantStation's Fall 2017 State of Grantseeking™ Survey suggest that the grantseeking sector is reflecting the atmosphere of uncertainty caused by Federal and state government program changes. Many respondents stated that there was limited funding for their specific mission. From a big-picture perspective, respondents told us that there is a greater need for non-restricted funding, regardless of mission focus. Many respondents also referenced the changing political landscape and the proposed state and Federal funding reductions and resulting confusion.
However, grant funding is available. According to
The Fall 2017 State of Grantseeking™ Report
, 66% of those organizations that submitted just one grant application won an award. In addition, submitting a higher number of applications increased the likelihood of winning awards. Eighty-eight percent of respondents who submitted three to five grant applications received at least one award.
The Fall 2017 State of Grantseeking™ Report is the result of the 15th semiannual informal survey of organizations conducted by GrantStation to help illustrate the current state of grantseeking in the U.S. "The twice-a-year survey we conduct with nonprofit leaders provides a powerful baseline for all organizations to gauge their grantseeking efforts," said Cynthia Adams. The report presents a trending, ground-level look at the grantseeking experience, focusing on funding from foundations, corporations, and other private grantmaking sources, as well as government grants and contracts.
The report looks at sources of grant funding through a variety of lenses, providing the reader with benchmarks to help them understand the grantseeking and grant giving landscape. "Do you understand how your annual budget, your mission focus, and your funder types impact your organizational success?" asks Ellen Mowrer, President/Chief Operating Officer for GrantStation. "With the median largest award by mission focus ranging from $10,000 for animal-related organizations to $800,000 for organizations focused on medical research, it is clear that organizations must have this in-depth understanding to plan appropriately."
This survey was open from August 15, 2017, through September 30, 2017, and received 4,047 responses. The information in the survey reflects recent and trending grantseeking activity during the first six months of 2017 (January through June). The Fall 2017 State of Grantseeking™ Report was underwritten by
Altum/PhilanTrack
,
Foundant-GrantHub
, the
Grant Professionals Association
,
GrantVantage
, and
TechSoup
,
To download the free report, visit
https://grantstation.com/state-of-grantseeking
.