Congratulations to Thomas Jefferson School of Law's Newest Attorneys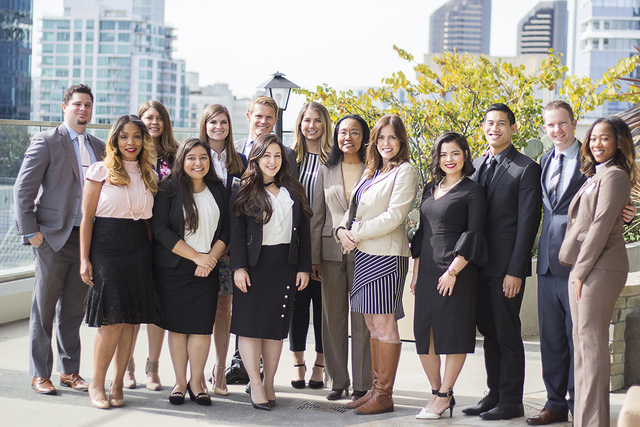 SAN DIEGO, CA, 12/7/17 – Thomas Jefferson School of Law's newest attorneys were celebrated at a reception held in their honor after they were sworn in on Tuesday. Their families and friends, along with Thomas Jefferson School of Law alumni, faculty, and staff gathered in Thomas Jefferson School of Law's Board room to wish the new attorneys well as they transition into this new phase of their legal career.
After welcoming everyone to the celebratory occasion, Thomas Jefferson School of Law President and Dean Joan Bullock congratulated the new attorneys and welcomed them to the noble profession of the practice of law. She stressed the importance of having respect for their calling and reminded them that their learning did not end with their graduation from law school.
"It is incumbent upon lawyers to stay abreast of the laws and the issues of the day in order to best represent and advocate for clients and the communities of which they serve," said Dean Bullock.
Thomas Jefferson School of Law Alumni Association Vice President Brian Findley '07 also welcomed all the new attorneys to the Alumni Association and encouraged them to remain active with the school.
The bulk of this year's new attorneys will be able to practice law in California, while others will be practicing law in Nevada, New York and Texas.
The mission of Thomas Jefferson School of Law is to provide an outstanding legal education for a nationally-based, diverse student body in a collegial and supportive environment with attention to newly emerging areas of law, particularly those related to technological development, globalization and the quest for social justice. Located in Downtown San Diego, Thomas Jefferson School of Law has evolved into an innovative, cutting-edge law school, devoted to the individual needs and success of its students. More information is available at
www.tjsl.edu
.
—- END —-
CONTACT: Thomas Jefferson School of Law Director of Marketing and Communications Edgar Hopida, 619-961-4314 or 619-913-0719,
ehopida@tjsl.edu
Email Thomas Jefferson School of Law