WasteExpo Celebrates 50th Anniversary Event Targeted to the Solid Waste, Recycling and Organics Industry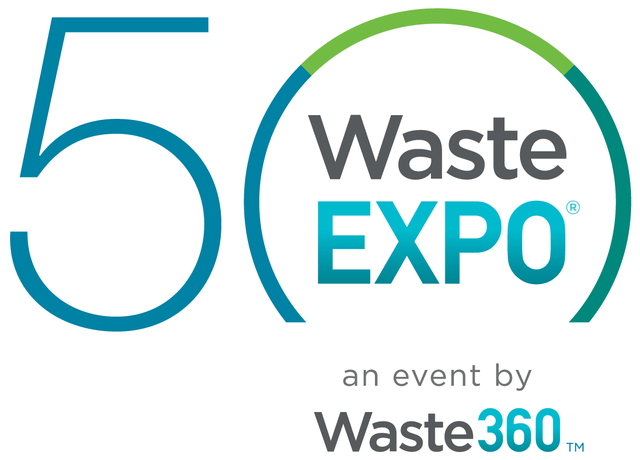 Event Takes Place April 23-26, 2018 in Las Vegas
New York, December 7, 2017 –
WasteExpo
, North America's largest solid waste, recycling and organics industry event, will celebrate its 50th anniversary April 23-26, 2018 in Las Vegas. The event brings education, insights and networking to solid waste, recycling and organics industry professionals. To register,
click here
.
Key event highlights:
The Conference Program will provide event attendees the technology and intelligence they need to get ahead in waste, recycling and organics.
Spotlight Sessions will offer the latest news and insights industry professionals need to thrive in today's waste and recycling industry. The sessions will focus on: Industry Trends, Technology, Generational Panel and Food Loss, Waste & Recovery.
The screening of the film Wasted!: The Story of Food Waste, from Executive Producer Anthony Bourdain, sheds new light on the problems and solutions around today's food-waste challenges.
The opportunity to meet 600+ suppliers in the industry's largest Exhibit Hall.
The return of the popular Food Recovery Forum focuses on efforts and solutions to reduce food loss and waste in the U.S., to rescue wholesome food to feed the hungry, and to recover inedible food residuals for beneficial reuse.
The Waste360 Investor Summit brings executives and investors together for a day of learning and analysis.

Networking with 12,000 peers and industry experts.
Enter WasteExpo's 50 Years in the Making Contest!
Share your memories, photos, videos and stories of the waste & recycling industry over the last 50 years. They can be your first memory of WasteExpo, a throwback of your product back in the day, or a quick story about how you got into the industry. You will want to be part of this walk down memory lane. All submissions will be displayed on waste360.com and at WasteExpo. Submit here:
http://www.wasteexpo.com/we18/Public/Content.aspx?ID=1068958&sortMenu=115001
Mark Hickey, VP and Market Leader, WasteExpo said, "A lot has changed in our industry over the last 50 years, but we're proud that WasteExpo has provided education, insights and networking for the solid waste and recycling leaders, innovators and the hardworking crews who make this industry thrive. To celebrate event attendees and our big 5-0 we have a one-of-a-kind show planned. From a skills elevating Conference Program and free Spotlight Sessions to an anniversary bash, outdoor demos and much more."
Watch the WasteExpo 50th Anniversary video to see what industry experts have to say about how far the waste and recycling industry has come in the last five decades:
https://www.youtube.com/watch?v=DAmip9gJgro
For more information on WasteExpo, please visit
WasteExpo.com
or follow WasteExpo on Twitter at
@Waste_Expo
.
Media interested in obtaining media credentials to attend WasteExpo, contact Liz Bothwell at
liz.bothwell@informa.com
.
About Waste360 Group
Waste360 Group harnesses the power of its many properties to serve the solid waste and recycling industry. The industry widely consumes this content in the form of websites, live events, online learning and digital opportunities and more. The Waste360 Group includes: Waste360.com, WasteExpo, the Global Waste Management Symposium, the Healthcare Waste Conference and topical and timely e-newsletters. For more information, visit
www.waste360.com
.
About Informa Exhibitions
With over 200 trade and consumer exhibitions annually, Informa Exhibitions is a global market leader in such end markets as Boating, Beauty, Construction & Real Estate, Life Sciences, Maritime, Health & Nutrition, Agriculture and Pop Culture. Through face to face and digital channels, its transaction-oriented exhibitions enable communities to engage, experience and do business. In doing so, Informa brings together people who want to buy and sell, network, do business and gain inspiration. Industry insight, coupled with an innovative and entrepreneurial approach, provides Informa Exhibitions customers and partners with the opportunity to create business advantage and access markets.
Informa Exhibitions is a division of Informa PLC, a leading business intelligence, academic publishing, knowledge and events business, creating unique content and connectivity for customers all over the world. Informa PLC is listed on the London Stock Exchange and is a member of the FTSE 100.