Design Wizard Becomes A HubSpot Connect Certified Partner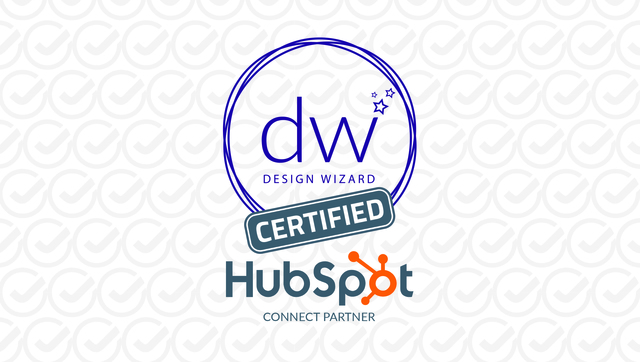 Design Wizard is graphic design software that makes the process of creating images quick and simple. You can create catalog of images, upload your fonts and logos, create custom color palettes, access our integration partners and search our templates without any barriers. Today, Design Wizard announced that it has joined HubSpot as a Connect Certified Partner.
HubSpot, a leading provider of inbound marketing and sales software, works hand-in-hand with Connect Partners to help grow their business through co-marketing and business development campaigns to increase shared customers. Connect Partners are independent software vendors who have built an integration with HubSpot and passed certification.
Design Wizard works like magic for marketers. In a matter of minutes you can create attention-grabbing content suitable for both print and online platforms. Producing professional, multi-functional visual content is a necessity for anyone who is nurturing and growing their business. Our integration with Hubspot means that you can now save your images straight to your HubSpot account.
"Our customers want to achieve great results fast, and we're always looking to provide solutions and tools that will help them do their jobs quickly and streamline operations," said Brad Coffey, Chief Strategy Officer at HubSpot. "Design Wizard is a great option for achieving that efficiency, and we're excited to have them as part of the Connect Program."
HubSpot's Connect Program is an ecosystem of valuable third-party integrations. Certified Partners comply with a set of requirements in addition to hitting set milestones for the number of installs and positive reviews from customers to receive the HubSpot stamp of approval.
"I'm delighted to see that Design Wizard has become a certified HubSpot Connect partner." said Sean Prior, CEO of Design Wizard. "HubSpot is a driving force in modern marketing and we are delighted to offer both our customers and those of HubSpot a fully integrated visual content creation solution. Design Wizard can now bring high quality, fast and affordable visual content to HubSpot customers. Design Wizard and HubSpot are aligned in that we both aim to help our customers achieve their business goals. As a Connect Partner, Design Wizard can now go that extra step in helping our customers create, analyse and optimize the images used in their online campaigns"
Learn more about the integration
here
.
About Design Wizard
Design Wizard users have full access to our library of 1.2 million images and 17,000 searchable templates. With Design Wizard it is possible to create impressive images for blogs, landing pages, reports, campaigns and social media in minutes.
We also add hundreds of new templates and images every single week, all of which are created by our talented team of in-house graphic designers and photographers. These are then carefully curated so that we can continue to build a library of trending, useful and compelling content that will add value and depth to our user's brands.
We want to empower everybody to create professional standard images so our design features are free to all users. We are constantly updating and adding to these features too. This week we have released a series of image filters so that now you can further modify and enhance your designs.
One of the biggest advantages of using Design Wizard is that you never have to worry about image copyright issues again. Because we own every single image, we offer a very straightforward and transparent licensing structure.
Design Wizard is headquartered in Cork, Ireland.
Learn more at
www.designwizard.com
About HubSpot HubSpot (NYSE: HUBS) is a leading inbound marketing, sales, and CRM growth stack. Since 2006, HubSpot has been on a mission to make the world more inbound. Today, over 34,000 customers in more than 90 countries use HubSpot's award-winning software, services, and support to transform the way they attract, engage, and delight customers. HubSpot Marketing includes social media publishing and monitoring, blogging, SEO, website content management, email marketing, marketing automation, and reporting and analytics. HubSpot Sales enables sales and service teams to have more effective conversations with leads, prospects, and customers. HubSpot CRM helps sales teams organize, track, and grow their pipeline. All three platforms integrate right out of the box and are available for free to start. HubSpot has been named a top place to work by Glassdoor, Fortune, The Boston Globe, and The Boston Business Journal.
The company is headquartered in Cambridge, MA with offices in Dublin, Ireland (EMEA HQ); Singapore; Sydney, Australia; Tokyo, Japan; Berlin, Germany; and Portsmouth, NH.
Learn more at
www.hubspot.com
Attachments