Fusion Stone Recounts Achievements Recorded in Home Transformation In 2017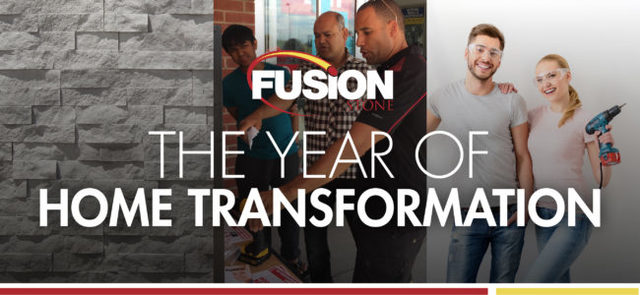 Fusion stone says the year 2017 has been a big year for her business
. It went on to recount the successes it had the privilege of celebrating with her clients as they look forward to 2018.
Fusion Stone opines that it continues to be a Canadian favorite stone veneer, with over 1,500 dealers across the country and unprecedented sales growth. With a high-end design, stress-free installation and appealing price point, Canadians have proven time and again that Fusion Stone is the perfect material for a wide range of DIY home improvement projects. The Blog and DIY sections of their website showcase some of the amazing projects that their customers have completed using Fusion Stone.
The Arrival of Peninsula Ledgestone
This year Fusion Stone introduced the newest member of the Fusion Stone family,
Peninsula Ledgestone
. This product offers the traditional appeal of stone in a contemporary design that is in a class of its own. Available in two stylish colors, Cyprus and Grotto, Peninsula Ledgestone is the ideal stone veneer for re-facing your home's exterior in a modern and sophisticated style, or adding a stunning feature wall or
fireplace surround
to your home's interior.
According to Fusion Stone, each stone panel system is 10 inches high and 18 inches long and offers their patented clip technology that is quick and easy to install, with a lifetime guarantee. Fusion Stone is a third generation, family-owned company with a wide selection of products and colors, utilized in projects of distinction on all modes of construction across North America.
Cross-Ontario Demo Tour
It has always been important for us to engage our clients and potential buyers, and in 2017 we stepped it up a notch, so says Fusion Stone. Fusion Stone ran an Ontario-wide Demo Tour from July to September. During this time, the company says you may have seen their two-person Demo Tour team. Justin and Irene visited over 80 retail locations from Ottawa to Toronto, to Windsor and Timmins!
Their team had the pleasure of meeting with their customers one-on-one to show off their amazing products, while answering questions and demonstrating how quick and easy their products are to install.
Increased Online Presence
This year Fusion Stone has also focused on enhancing her online presence. "In fact, we ran our first-ever online contest. On November 14th, one lucky winner will be selected at random to receive $5,000 of Fusion Stone in their choice of stone veneer from either the Great Lakes collection, the Dry Stack collection or the Peninsula Ledgestone collection" according to a statement by the company.
"2017 has been a great year for us at Fusion Stone, which means we've set high expectations for next year!" so says Fusion Stone. The company asked her clients to follow their blog and social media channels to see what they have in store for Canadians next year! Also they want prospective clients to contact them to learn more about their fantastic and durable products and to get connected to a building materials retailer nearby.
Fusion Stone is manufactured by Shouldice Designer Stone that has a rich and proud history of Innovation, Quality and Service. They are an example of the coming together of the beauty, strength, and maintenance free virtues of traditional stone with the ease of installation and affordability of stone veneer.
Fusion Stone is an easy and budget-friendly way to beautifully upgrade your home, inside and out.
Fusion Stone
281227 Shouldice Block Road
Shallow Lake, Ontario
N0H 2K0 CANADA
Telephone: (519) 935-2771 ext.224 or (800) 265-3174
Email:
fusion@shouldice.ca