Hertz Furniture Provides Hurricane Relief to Texas and Florida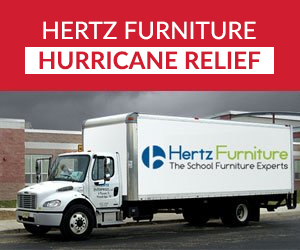 Hertz Furniture, the premier education and workplace furniture dealer, initiated a program to provide hurricane relief in the wake of
Hurricane Harvey
and
Hurricane Irma
. The Hertz program offered 20% discounts to schools in Florida and Texas through the end of 2017, on all furniture from Academia, Diversified Woodcrafts, National Public Seating, Offices to Go, OSC, Russwood and Wood Designs. Additionally, they offered over 3,200 Quick Ship items, to help schools get back on their feet as quickly as possible.
In the aftermath of the devastating hurricanes that struck Florida and Texas at the beginning of this school year, many schools were left with severely damaged buildings and furniture. In addition to destroying and damaging the houses of many students, and causing schools to close for extended periods of time, the water damage has also left schools with severe financial burdens. In order to get them back up and running at full capacity Hertz Furniture stepped up to offer their expertise and efficiency, and all at a severe discount.
"Hertz Furniture is honored to provide real, impactful assistance to some of our country's most damaged areas," said Hertz Furniture President David Mocton. "When I saw the severe damage, and heard about how some of our nation's schools were affected, I knew that we needed to do something to help those students get back into fully-equipped classrooms, as soon as possible."
Schools know that they can count on Hertz. That's why Hertz was immediately contacted by the Houston ISD as a preferred vendor, to help replace damaged furniture after Hurricane Harvey.
"We got right to work, and had fully-furnished the first levels of eight schools that were flooded out, in a matter of weeks. It felt wonderful to help these schools get back up and running," said Houston native Daniel Goldfine, Vice President of Sales - South Central Region, for Hertz Furniture.
But replacing damaged furniture isn't the only thing Hertz Furniture did to help hurricane victims. The empty storage space in Hertz's Houston storage facility was used to store truckloads of donated supplies. Consequently, in the weeks after the hurricane, Hertz Furniture effectively became an emergency supply distribution center as well.
Hertz Furniture's local sales representatives are always standing by, ready to serve our nation's schools in this time of need. With offices in both Texas and Florida, they were uniquely poised to serve the local populations after the hurricanes, with everything from replacing individual items, to full project planning.
About Hertz Furniture:
Hertz Furniture
is the furniture dealer of choice for education, business, government, and religious institutions nationwide, providing quality furniture and superior customer service for more than 50 years. Lifetime warranties, complimentary interior design & project management, fast quotes, and quick-ship products are just a few of the ways that Hertz Furniture has been providing added value to its customers.
For additional information on Hertz Furniture and its extensive line of products and services, please visit HertzFurniture.com or speak to a furniture specialist at 800-526-4677.