AFuzion Releases New Free DO-160 Avionics Testing Technical Whitepaper, Also Free DO-254 / DO-160 Training Webinar - Register Here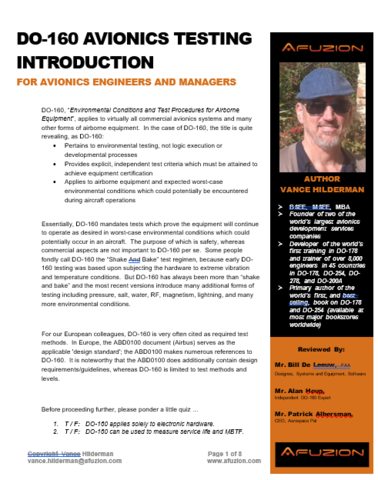 AFuzion has released its new DO-160 Avionics Testing Whitepaper, available today for free download here:
Click Here for Free Download from AFuzion
To view the new DO-160 & DO-254 Training Webinar, register here:
Click Here to Register for Free DO-254 & DO-160 Training Webinar
Do you know DO-160? Here's a quick summary; simply download AFuzion's free technical DO-160 paper for details.
DO-160, "Environmental Conditions and Test Procedures for Airborne Equipment", applies to virtually all commercial avionics systems and many other forms of airborne equipment. In the case of DO-160, the title is quite revealing, as DO-160:
◦Pertains to environmental testing, not logic execution or developmental processes
◦Provides explicit, independent test criteria which must be attained to achieve equipment certification
◦Applies to airborne equipment and expected worst-case environmental conditions which could potentially be encountered during aircraft operations
Essentially, DO-160 mandates tests which prove the equipment will continue to operate as desired in worst-case environmental conditions which could potentially occur in an aircraft. The purpose of which is safety, whereas commercial aspects are not important to DO-160 per se. Some people fondly call DO-160 the "Shake And Bake" test regimen, because early DO-160 testing was based upon subjecting the hardware to extreme vibration and temperature conditions. But DO-160 has always been more than "shake and bake" and the most recent versions introduce many additional forms of testing including pressure, salt, water, RF, magnetism, lightning, and many more environmental conditions.
Before proceeding further, please ponder a little quiz …
◦T / F: DO-160 applies solely to electronic hardware.
◦T / F: DO-160 can be used to measure service life and MBTF.
◦T / F: DO-160 testing is typically performed simultaneously to performance and functionality testing of the hardware/software logic
◦T / F: DO-160 is predominantly concerned with temperature and vibration testing.
◦T / F: DO-160 is a static document and rarely updated.
◦T / F: DO-160 testing should all be performed on the same piece of equipment.
Do you know all the answers? A couple of them are tricky, but reading AFuzion's full and free DO-160 paper will help.
DO-160 has a long pedigree. While the first version was released in 1975, it is derived from DO-138 which dates back to 1958, making it one of the older aviation certification documents still applicable today, albeit in its latest revision. Although many of the other "DO" documents pertain to specific aspects of hardware, software, systems, and processes, DO-160 is often considered the grandfather since almost all these systems must ultimately pass DO-160 testing.
DO-160 is essentially equipment environmental testing to Minimal Operational Performance Standards (MOPS), where testing is to be performed in a certified laboratory environment with certified & calibrated equipment. Such a laboratory environment means the tests are objective, standardized worldwide, and repeatable. Typically these tests are performed at testing centers which are independent of the design, though larger companies may have their own dedicated DO-160 test environments. Non-certified laboratories or equipment are useful 'engineering tools' to increase design confidence and decrease actual certified laboratory test time. The successful conclusion of a DO-160 test campaign is an accepted Test Report (desirably, but not necessarily with all 'pass'). A well-written Test Report is not a trivial task, and in this context would include the certified laboratory(ies) and a list of the test articles, which includes the calibrated test equipment. The DO-160 testing would follow a previously written and customer accepted Test Procedure, being referenced in a Test Plan.
For DO-160 Training and DO-254 Training or additional information, click here or contact AFuzion: AFuzion's Avionics Development Training – Info & Contact:
Click Here for DO-160 Training Info from AFuzion
For a quick 1-minute video to understand how to close your avionics development gaps, click here:
Click Upper-Right Video Link for 1-Minute Gap Analysis Video