Voice Changer Software Diamond 9.5 completes Audio4fun's successful releases in 2017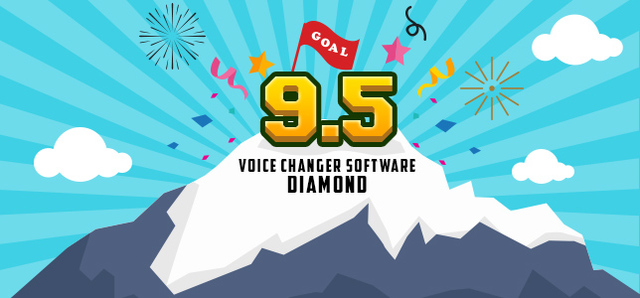 January 16, 2018 - In April 2017, the flagship product of Audio4fun,
Voice Changer Software Diamond
got the biggest update of the year with the new version 9.5. This version also marked an important milestone in the company's history of developing the software with significant changes in all features, especially the new Voice Morpher and File Morpher elements. To conclude the software's performance in 2017, Audio4fun's evaluation of the internal data confirmed there were very good positive results in sales as well as users' satisfaction. More information about the new features of Voice Changer Software Diamond 9.5 can be found at
https://www.audio4fun.com/voice-changer.htm
The numbers speak
There were several improvements in statistics between 2017 and 2016, but there were three stats with the most considerable changes: conversion rate, sales and refund rate. Conversion rate increased at an impressive amount of 29%. First time users who downloaded the free trial were more interested in the software and thus, were more likely to buy. Accordingly, sales of Voice Changer Software Diamond throughout the year also went up by a substantial amount of 10%. On the other hand, the number of refund declined considerably by 10.1%, which can be referred as a good sight of higher users' satisfaction.
"Sales have always been one of the most practical keys to measure the success of our products. When combined together with conversion rate and refund rate, it may be implied that more and more users were attracted by the revolution of Voice Changer Software Diamond 9.5. The positive increase in overall quality led to better purchasing decisions and increased the satisfaction of new users. In this version 9.5, there were several changes in functions, and the most notable ones also come from the two most favored features of users: Voice Morpher and File Morpher," said Chris R.F., Head of Quality Administration.
Voice Changer Software Diamond's 2017 achievements: New version of Voice Morpher and File Morpher
The core feature Voice Morpher can smoothly modify a human voice into various new voices with the combination of the Pitch-Timbre graph, Voice Beautifying and Voice Effects functions. Users will be able to change their voice in real time and easily adjust settings while talking in a Skype call, Discord and many other VoIPs. Not only that, Voice Morpher's settings can be conveniently used in File Morpher feature to morph pre-recorded audio files, especially with the new Voice Effects function. The selected effects will be constantly shown on the main panel with active/inactive status. Users will have the options to turn any effect on/off as well as a quick shortcut to adjust that effect's settings.
The other main feature, File Morpher, can help users add different effects, morph vocals, make changes to audio files, and also convert audio formats. With the new version 9.5, users can use File Morpher to adjust all of the settings in Full Mode before processing audio files, or use the newly added Quick Mode to morph files instantly with pre-created settings stored in Full Mode. In addition, two brand new tools Tempo Morpher and Volume Booster were also integrated into the feature. Users will even have the option to make changes to the speed and sound level of audio files.
All in all, with the new Voice Changer Software Diamond 9.5, all users will experience a better modern interface, simpler and easier-to-use main features, innovative new functions as well as a new carefully researched arrangement. The positive results of the software's statistics in 2017 is also a proof that Audio4fun is going in the right direction and will confidently continue another year with promising innovative developments. All readers can visit
https://www.audio4fun.com/voice-changer.htm
for more in-depth specifications.