A Win for a Translation Company Team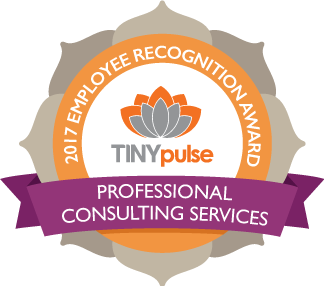 The in-house team of Teneo Linguistics Company has won the Tinypulse 2017 Employee Recognition Award in the category of Professional Consulting Services.
Tinypulse is the maker of a unique software tool for businesses that are interested in developing their corporate culture and maintaining a high level of employee engagement and happiness.
The team at Teneo has been using the tool for weekly happiness check-ins via pulse surveys as well as sending each other Cheers. Employees are empowered to not only give feedback on what is working and what is not, but also offer their own suggestions. The award itself is for the employees giving each other recognition and praise for a job well done, racking up the highest number of Cheers per capita.
Hana Laurenzo, the owner of Teneo, says: "Even before we knew about the award, we had already designated 2018 as the Year of the Team. Building an awesome team with a unique culture has always been close to my heart. We fully recognize that we spend more time at work, with each other, than at home with our families. Making our work environment friendly, supportive, and with plenty of room to grow for everyone is the number one priority. Receiving this award proves that we are already well on our way to becoming THE place to work in the language services industry."
The award-winning team manages translation, interpreting, and transcription projects in over 130 languages, working in unison with hundreds of linguists located all over the world. Teneo Linguistics Company is already a two-time winner of the Small Business of the Year Award, and the Business Ethics Award.
Teneo Linguistics Company, LLC, based in Fort Worth, Texas, is a full service provider of foreign language services such as document translation, in-person and telephone interpreting, transcription, and language education.
Email Teneo Linguistics Company, LLC