Corporate Finance Associates Advises Shift4 in Its Acquisition by Lighthouse Network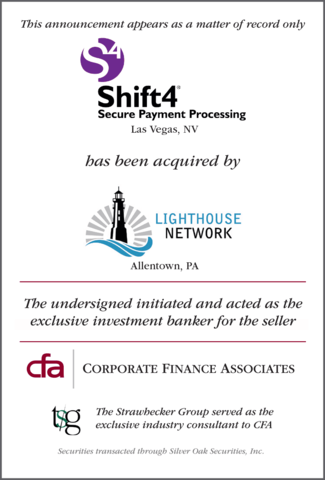 Los Angeles, CA
- January 15, 2018 -
Corporate Finance Associates
(CFA) a leading middle-market mergers and acquisitions firm, announced it acted as the exclusive financial advisor to Shift4 in the recent acquisition by Lighthouse Network. The Strawhecker Group (TSG) served as CFA's industry consultant to the transaction.
Shift4, established in 1994 by the Oder family, is headquartered in Las Vegas, Nevada. Shift4 is a leading developer of enterprise payment solutions that provide powerful, Web-based applications allowing merchants to convert credit, debit, check and gift card transactions into dollars in the bank quickly, accurately, and securely. Shift4's DOLLARS ON THE NET® solution provides merchants in virtually every industry with real-time electronic payment authorization, auditing, reporting, and settlements. Shift4 is the premier payment gateway serving the lodging, hospitality and restaurant industries. Shift4's patented tokenization technology provides the most secure payment network on the market today.
Lighthouse Network (LN) is a leading financial technology organization, powering the top POS brands in the hospitality and retail sectors and has proudly served more than 400,000 merchants in its collective 18 year history. LN is comprised of four separate companies: Harbortouch, a leading point-of-sale technology company and pioneer of the POS-as-a-service business model, having served more than 330,000 merchants since 1999; Restaurant Manager, .a designer of point-of-sale software for the foodservice industry since 1987; Future POS, a seller of premium point-of-sale software for the restaurant and hospitality markets founded in 1998, and; POSitouch, a provider of turn-key, point of sale solutions since 1985.
Transaction Information
On November 30, 2017, Shift4 was acquired by Lighthouse Network in a private transaction. The terms were not disclosed. Financial representation was provided by the Omaha Office of Corporate Finance Associates, led by
Jim Zipursky
. "We were honored to work with the Oder family as they looked to find the right acquirer for Shift4, the company they founded and built into the premier payment gateway. Under the leadership of Jared Isaacman, Lighthouse Network and Shift4 are certain to be the leader in the electronic payments/financial technology industry" said Mr. Zipursky when asked about the transaction. TSG, the leading expert in the electronic payments industry, provided CFA with industry consulting in the transaction.
About Corporate Finance Associates
Corporate Finance Associates
is a major investment banking services firm, with offices across North America and partner offices in Europe, Asia and Brazil and South Africa providing middle-market companies with a wide range of financial advisory services and access to capital resources. From project inception to completion, a senior principal guides clients through every challenge, advocates on their behalf, and leverages CFA's experience and extensive resources. More information is available via the Internet at
www.corporatefinanceassociates.com
.
Email Corporate Finance Associates