OffiDocs: LibreOffice Online has been updated with a file manager and email service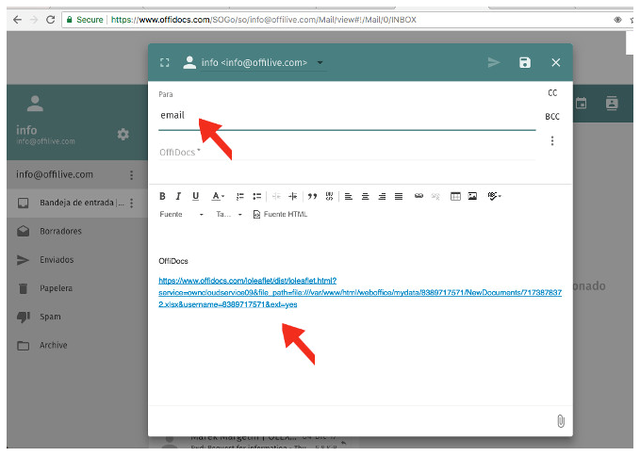 OffiDocs continues to add additional functions to its applications in order to facilitate working in the cloud. As such, LibreOffice Online has expanded its features with two new additions: a file manager and a service for sharing files via email.
LibreOffice Online allows you to work in the cloud from anywhere using just your browser. Using this application, you can create, save and edit text documents, spreadsheets, and PowerPoint presentations that have already been uploaded to the OffiDocs workspace.
The two new improvements to LibreOffice Online will make your daily work easier and will help you to share the work with other users in the cloud. The file manager and the service that allows you to share files via email complete one of the main OffiDocs desktop applications.
LibreOffice Online, expanded with two new features
OffiDocs continues to add new features to applications in order to satisfy your needs as a user. In order to improve the projects you develop in the cloud, LibreOffice Online has included two buttons that facilitate file management work and offer the chance to share files with other users via email.
OffiDocs file manager for LibreOffice Online
All users of the LibreOffice online application can use a new button called "File Manager" when they are editing a Word document, an Excel spreadsheet or a PowerPoint presentation. When you enter the OffiDocs file administrator, you access a personal workspace where all your documents appear on a list.
This file manager allows the following actions: editing text documents, spreadsheets and PowerPoint presentations already uploaded to the OffiDocs workspace, download them onto your computer, delete them, upload new files, and see and edit documents from DropBox accounts.
Service for sharing files via email
You can now share documents created with LibreOffice Online thanks to the new button that redirects you to the free OffiLive email service.
Users of the online application can use the button when they are editing a text document, a PowerPoint presentation or a spreadsheet. When you click on the new button, it will redirect you to OffiLive where a pop-up window will appear that includes the link to the document that you want to share. Likewise, colleagues or users that receive the document can also edit it.
OffiDocs has improved its LibreOffice Online application to allow you to manage and share your work more simply in the cloud.
More info at
OffiDocs