RedcoolMedia expands its online audio and video platforms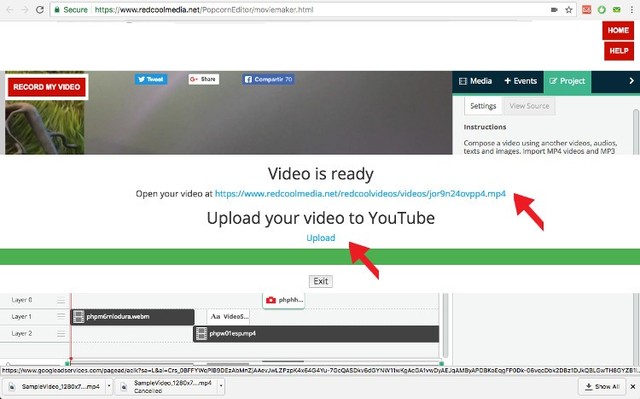 RedcoolMedia is meeting the needs of its users by expanding its online service devoted to multimedia editing. This platform constitutes a free platform that makes it easy for you to edit video and audio in the cloud, without the need to worry about available disk space.
To that end, RedcoolMedia presents AudioStudio, an adaptation of the Beautiful audio editor, and it has updated the MovieStudio application with a tutorial that explains how to use it step by step and allows you to directly upload videos to YouTube.
MovieStudio and AudioStudio, new tutorials and updates
RedcoolMedia has updated its online audio and video editors so that you can customise your creations and share them on YouTube without needing to download them to your computer. Also, it provides tutorials offering a step by step explanation of how to create videos using MovieStudio and audios with AudioStudio.
MovieStudio: a new tutorial for creating videos and uploading them to YouTube
Specifically, in MovieStudio the tutorial has been created to satisfy the demands of users who requested a guide to facilitate the creation and editing of videos with this tool. Now, the inclusion of a new tutorial and a video demo explains how to use the application in a clear and accessible way.
This application allows you to record videos using the camera on your computer, upload them to the multimedia gallery, mix them with others that you have already recorded, import them from a URL….Also, it offers you the option of adding customised texts and images to your creation in layers that will enrich the end result.
The MovieStudio online editor has added a very useful function in order to offer a total user experience, as it makes it possible to directly load videos created with this application on YouTube. The MovieStudio - YouTube integration is the best way to post videos without having to download them to the computer when you have finished editing.
AudioStudio: create your online audio files
On the other hand, RedcoolMedia presents AudioStudio, an adaptation of the Beautiful audio editor that allows you to create your own online audio files.
Using just your equipment and web browser, AudioStudio allows you to record audios, replicate them, cut them, compress them, share them and export them to MP3 or WAV or to an URL. The online tutorial shows you how to use this application in order to optimise all your functions in the easiest way.
RedcoolMedia has updated its multimedia editors and offers a step by step explanation of how to use them in order to obtain optimum performance when creating your audios and videos.
More info at
RedcoolMedia
.