Hertz Furniture Facilitates the Shift from Library to Media Center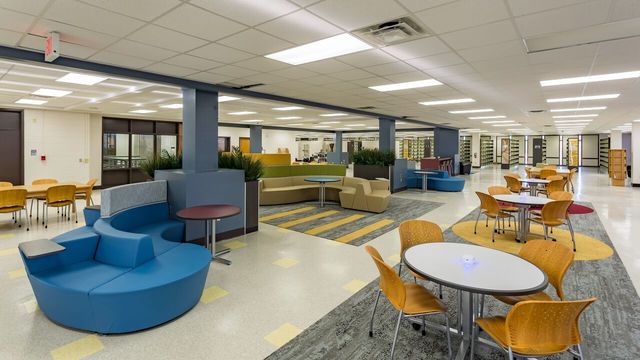 Hertz Furniture, the premier education and workplace furniture dealer, is helping high schools and institutions of higher education make a smooth transition from traditional library to media center. The evolution of students' needs when researching and working on assignments is reflected in a national trend, moving away from book-filled libraries with uniform hard seating of the past, and into a future full of flexible furniture, plenty of power sources and self-contained study spaces.
Making the transition from library to media center is often a wise choice for educational institutions from elementary school through higher education. Students rely much less on printed books for research and study, doing almost all of their work and research on computers. A media center fits the evolving needs of today's students by replacing floor-to-ceiling shelves and old-school wooden tables with flexible seating and adjustable work surfaces, as well as plenty of power sources and digital devices. Through modern areas like media centers, education continues to be relevant to the real world today's students live in. Media centers allow educators to teach real life study skills that will serve students well into the future.
Hertz Furniture's participation in the recent renovation of the Leonard S. Washington Memorial Library at Southern University at New Orleans (SUNO) is a shining example of how a library can be transformed into a media center. The library was destroyed during Hurricane Katrina in 2005, and SUNO recognized the restoration of the space as an opportunity to create a modern media center. After years of using makeshift libraries housed alternately in a FEMA trailer and a small part of a now demolished building, students at SUNO can finally enjoy writing, collaborating and researching in a modern, comfortable space that was designed just for that.
With the help of the Hertz Furniture, The Leonard S. Washington Memorial Library now features a host of modern media center furniture, which is designed to support a variety of study styles. Lounge-style soft seating with built-in work surfaces lets all students to work in the position that is most comfortable to them. Modular furniture on wheels supports collaboration in groups of any size, by facilitating an unlimited array of configurations. With so much flexibility, the space is also equipped for any future evolution and reconfiguration. Also furnished in the library building were a makerspace lab, a cafe, and a 2-storey lobby.
"It's amazing how the Southern University at New Orleans saw the devastation of Hurricane Katrina not just as a tragedy, but as an impetus to evolve," said David Mocton, President of Hertz Furniture. "This was a tremendous opportunity, not just to help a university in need, but also to use our expertise to create a fully-operational, modern media center."
Hertz Furniture is uniquely poised to facilitate transitions from library to media center, with years of expertise in flexible furniture, soft seating, collaborative furniture and power solutions. Hertz Furniture's local sales representatives are always standing by, ready to serve our nation's high schools and universities as they make the transition from library to media center.
About Hertz Furniture: Hertz Furniture is the furniture dealer of choice for education, business, government, and religious institutions nationwide, providing quality furniture and superior customer service for more than 50 years. Lifetime warranties, complimentary interior design & project management, fast quotes, and quick-ship products are just a few of the ways that Hertz Furniture has been providing added value to its customers.
For additional information on Hertz Furniture and its extensive line of products and services, please visit HertzFurniture.com or speak to a furniture specialist at 800-526-4677.