The Adventure Park at The Discovery Museum Zips & Climbs into Spring for 2018 Season, Opening March 30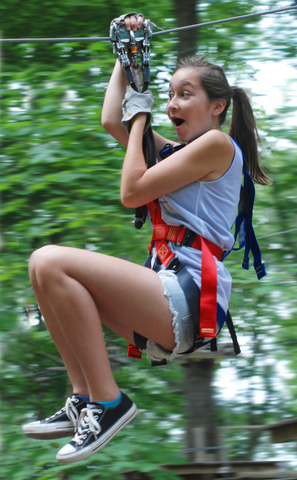 The Adventure Park at The Discovery Museum
, the popular outdoor zip line and climbing venue located on the Fairfield/Bridgeport line at 4450 Park Avenue, will open for its 2018 season of zip line and climbing fun on Friday, March 30 at 3:00 PM for its spring schedule. That very opening night The Adventure Park will host its popular "Glow In The Park" climbing event with lights, music and Easter themed glow accessories for all climbers.
- An Easter Egg Hunt In The Treetops -
Then, on Sunday, starting April off on the right foot … (a rabbit's foot you might say) is an Easter Egg Hunt as only The Adventure Park could host it-up in the trees, as well as on the ground. Titled, "An Eggcellent Adventure" there will be eggs hidden both on the ground and up in our treetop trails. There will be some "eggcellent" prizes for the winners! The event will take place on Sunday morning, April 1 from 9:00 AM to 12:00 PM as our Park staff help the Easter Bunny refresh the hidden treasures to be discovered.
The new season will reveal more adventures in the trees—-both on regular operating days and special event days. Upcoming special events will be featured on The Adventure Park's
Special Events
website page throughout the months ahead.
This year the Park will continue to offer its popular
online reservations
at the Park website which the public has found very convenient. Reservations can always be changed online right up until the previously booked time. Reservations help avoid waiting by establishing a reserved start time for each climber.
As always, The Adventure Park features its special combination experience of zip lines mixed with challenge bridges between the trees that keeps people coming back for more. The park's friendly staff is available to answer questions and assist from the moment customers arrive to the moment they conclude their climb and return home with satisfied "I did it!" smiles.
The Adventure Park is not one single aerial treetop trail but a variety of different, color-coded aerial trails of differing challenge levels—beginner through expert—that climbers choose from depending on their age or climbing experience. These trails consist of platforms installed in the trees and connected by various configurations of cable, wood and rope to form "crossings" of different kinds including the ever-popular zip lines. Climbers wear harnesses which are doubly secured to safety cables using the Park's "always locked on" system of interlocking safety clips. Before venturing onto the trails climbers receive an interactive orientation and practice session.
The Adventure Park at The Discovery Museum is designed, built and operated by Outdoor Ventures. It easily reached off exit 47 off the Merritt Parkway.
Hours and prices will be found here
. For further details and updates please visit
www.DiscoveryAdventurePark.org
, email
Info@DiscoveryTrees.org
or call (203) 690-1717.
Email The Adventure Park at The Discovery Museum