It's Time for Food for Thought & All That Jazz at SUNY SCCC with Honorary Co-Chairs, The Fabulous Beekman Boys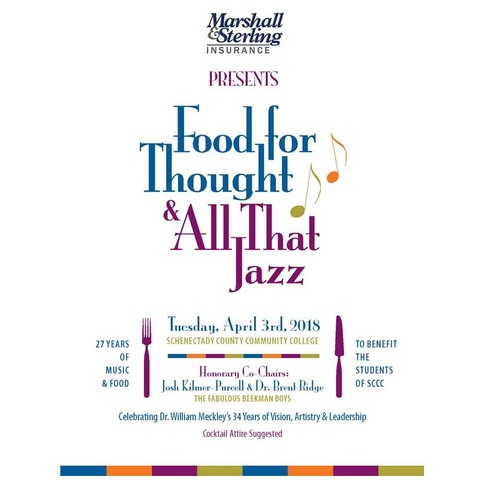 SCHENECTADY, N.Y. – The Schenectady County Community College Foundation will welcome supporters and friends of the College to its signature event, the 27th Annual Food For Thought & All That Jazz, on Tuesday, April 3, on the SUNY SCCC campus. This spectacular evening, featuring the delicious cuisine and beautiful sounds of students and faculty in SUNY SCCC's Culinary Arts and Music programs, is presented by Marshall & Sterling Insurance. This year the SCCC Foundation is excited to have The Fabulous Beekman Boys (Dr. Brent Ridge and Josh Kilmer-Purcell) serving as Honorary Co-Chairs.
The evening will begin at 5:30 p.m. with a welcome and a fabulous Jazz Concert featuring a performance by the student Jazz Ensemble. The Foundation will celebrate Dr. William Meckley, who is retiring from the College after 34 years of vision, artistry and leadership, as he conducts the Jazz Ensemble one last time. Then, guests will dine on mouth-watering cuisine, at gourmet food stations, prepared by students in the College's School of Hotel, Culinary Arts and Tourism. A silent auction, student art exhibit and book signing with The Fabulous Beekman Boys will round out this celebratory evening.
Tickets for Food for Thought & All That Jazz are: Honorary Committee, $150 per person; Honorary Committee - Alumni, Faculty and Staff (current and retired), $100; Individual Reservation(s), $100; Alumni, Faculty and Staff (current and retired), $75.
For more information or to register, please visit
www.sunysccc.edu/allthatjazz
or call the Foundation at (518) 381-1322.
About The Fabulous Beekman Boys:
When Josh Kilmer-Purcell (advertising executive and NY Times Bestselling author of I Am Not Myself These Days & The Bucolic Plague) and his partner Brent Ridge (physician and former Vice President of Healthy Living for Martha Stewart Omnimedia) purchased the historic Beekman 1802 Farm in 2007, they had no idea that it would launch one of the "fastest growing lifestyle brands in the country." (source: Nasdaq). The men began working with several other local farmers and artisans to market their goods, and the entire village came together to host seasonal festivals, which are now attended by thousands of visitors from around the globe.
About SUNY Schenectady County Community College:
One of 30 community colleges in the State University of New York system, which is the nation's largest comprehensive system of higher education, SUNY Schenectady County Community College (SUNY SCCC) enrolls more than 6,200 students annually. Located in upstate New York, SUNY SCCC offers more than 55 degree, certificate and program options. The College opened its doors for classes in 1969 and continues to respond to local educational needs by providing affordable, comprehensive higher education and adult education opportunities. To learn more, visit
sunysccc.edu
.
Email Baker Publication Relations