"The Chords of War" Named a 2017 Foreword INDIES Book of the Year Awards Finalist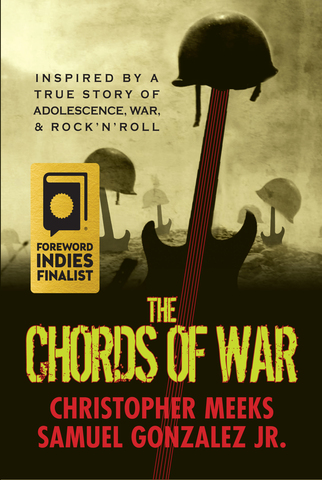 April 2, 2018 - White Whisker Books is pleased to announce that its novel "The Chords of War," by Christopher Meeks and Samuel Gonzalez Jr. has been recognized as a finalist in the 20th annual Foreword INDIES Book of the Year Awards.
Inspired by Sam Gonzalez's true story, "The Chords of War" is the tale of punk rock teenager Max Rivera from Florida, who seeks purpose as he tries to understand why his life always teeters between music and mayhem. After he's kicked out of his band on tour, he joins the Army to change his life. It's after 9/11, and he finds himself under fire in Iraq, part of the surge in Baquabah. In order to deal with his confusion and raging hormones during patrols, battles, and women fighting alongside him, Max creates a new band with soldiers. Will Max and his friends make it?
"'The Chords of War' may be destined to have the impact of 'All Quiet on the Western Front' as the defining novel of the Millennials' war in Iraq. It has already made my 2017 Top Three list of books."
—
Linda Hitchcock, Midwest Book Review
"Wow what a book. This is destined to become an instant classic. The authors really capture the essence of the war in Iraq and what it is like to be a young soldier in the midst of such horrors. Couldn't put this book down. I now have a whole new perspective on the war."
—
Tony Walsh, NetGalley Reviewer
"With 'The Chords of War,' Christopher Meeks and Samuel Gonzalez Jr. have set the bar very high for modern war fiction."
—Jim Chambers, Hall of Fame Top-Ten Reviewer
As part of its mission to discover, review, and share the best books from university and independent publishers, independent media company Foreword Magazine, Inc. hosts its annual awards program each year. Finalists represent the best books published in 2017. After more than 2,000 individual titles spread across 65 genres were submitted for consideration, the list of finalists was determined by Foreword's editorial team. Winners will be decided by an expert team of booksellers and librarians-representing Foreword's readership-from across the country.
The complete list of finalists can be found at:
https://www.forewordreviews.com/awards/finalists/2017/
"Choosing finalists for the INDIES is always the highlight of our year, but the job is very difficult due to the high quality of submissions," said Victoria Sutherland, founder/publisher of Foreword Reviews. "Each new book award season proves again how independent publishers are the real innovators in the industry."
White Whisker Books has had four books selected for awards by Foreword Reviews in the past seven years, beginning with Christopher Meeks' comic novel, "Love at Absolute Zero" in 2011, a finalist in the Romance category. Then came Shelly Lowenkopf's "The Fiction Writers' Handbook: The Definitive Guide To Mcguffins, Red Herrings, Shaggy Dogs, And Other Literary Revelations From A Master," a finalist in the Adult Nonfiction category in 2012. E. Van Lowe and Sal Conte's tense YA novel, "The Secrets of Love and Death" won a Silver Award in 2015 in the YA Novel category. Then this year's "The Chords of War" for Military and War fiction.
Winners in each genre-along with Editor's Choice Prize winners and Foreword's INDIE Publisher of the Year-will be announced June 15, 2018.
Email White Whisker Books