Lightning Prediction AI May Help Check Wildfires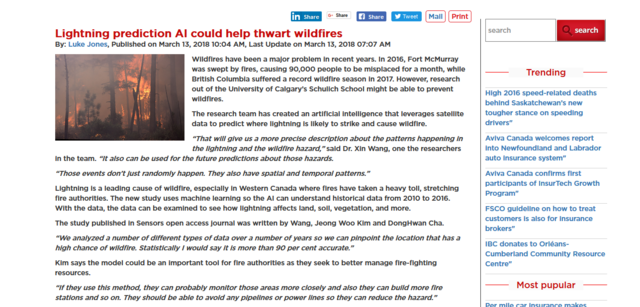 Shop Insurance Canada says
lightening prediction artificial intelligence could help solving the problem of wildfires
. In recent years, Wildfire has been a major problem. In 2016, Fort McMurray was swept by an inferno, causing 90,000 people to be displaced for one full month, while
British Columbia
suffered a record wildfire season in 2017. However, research from the University of Calgary's Schulich School might be able to prevent wildfires.
The research team has developed an artificial intelligence that leverages satellite data to predict where lightning is likely to strike and cause wildfire.
"That will give us a more precise description about the patterns happening in the lightning and the wildfire hazard," said Dr. Xin Wang, one the researchers in the team. "It also can be used for the future predictions about those hazards.
"Those events don't just randomly happen. They also have spatial and temporal patterns."
According to Shop Insurance Canada, lightning is a leading cause of wildfire, especially in Western Canada where fires have taken a heavy toll, stretching fire authorities. The new study uses machine learning so the AI can understand historical data from 2010 to 2016. With the data, the data can be examined to see how lightning affects land, soil, vegetation, and more.
The study published in Sensors open access journal was written by Wang, Jeong Woo Kim and DongHwan Cha.
"We analyzed a number of different types of data over a number of years so we can pinpoint the location that has a high chance of wildfire. Statistically I would say it is more than 90 per cent accurate."
Kim says the model could be an important tool for fire authorities as they seek to better manage fire-fighting resources.
"If they use this method, they can probably monitor those areas more closely and also they can build more fire stations and so on. They should be able to avoid any pipelines or power lines so they can reduce the hazard."
Shop Insurance Canada is a subsidiary of RDA Insurance, a major
Ontario
based insurance provider with a stable of online outlets that includes Shop Insurance Canada family sites. The company has two goals: to give you the very best insurance policy possible and to help you save money when looking for coverage.
Shop Insurance Canada
1003-60 Bathurst St. Toronto,
ON M5V 2P4 Canada
416-913-0151
Email Shop Insurance Canada