Fusion Stone Shares How Their Product Can Help Your Business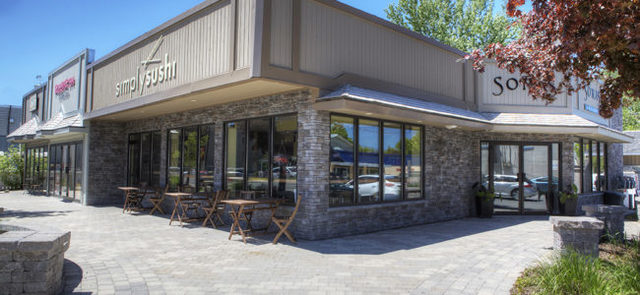 Fusion stone says their product can be of benefit to your business
. The company says with fusion stone it is easy to communicate a professional vibe to all clients and potential clients for both interior and exterior designs. Image matters a lot, especially when it comes to your business. You want people to come to your place of business and be wowed before they walk in the front door, as well as after they enter.
Give the Exterior of Your Business Some Added Curb Appeal
- The company says no matter how old your building is, you can give it a modern look with minimal effort and cost. You can make the façade of your building to look inviting and professional, and with any of their three products, it is very easily to get it done.
Peninsula Ledgestone, the newest product profile from fusion stone, they say will offer your business a slick and contemporary appearance, while giving you visual options with two rich and diverse colour choices. Stone veneer, the company say is simple and easy to install – it could be done on a weekend, which means you wouldn't have to shut down during office hours.
Try Adding a Feature Wall in Your Reception Area
- Once your clients have entered your business, the feeling of professionalism and comfort shouldn't end. Something as simple as a feature wall in your reception area can keep your clients impressed. The natural look of our products is inviting and earthy without looking dated, according to fusion stone.
The company went on to say that Fusion Stone is an affordable way to make your reception area or office stand out from your competitors. Since you can
DIY
, you won't need to hire a contractor to do the installation, which will save you time and money. Our most popular product, Great Lakes, like all our products, is extremely easy to use and can conform to fit any sized wall, no matter the measurements or contours.
Be Proud of Your Socially Conscious Brand Values
- Is your business concerned about the environment? If you're a socially responsible brand then Fusion Stone is the right product for you. Our stone veneer is professional and beautiful, but it also reduces your environmental footprint. Making green choices in your building decisions is critical if sustainability is part of your brand's values, so says fusion stone.
All our products support the principles of
LEED
, which is an acronym for Leadership in Energy and Environmental Design, and we fully believe in its use. As a LEED product, Fusion Stone follows a set of rating standards intended to help building owners and operators be environmentally responsible and use resources efficiently. So, show off your green side, and be proud of your brand's positive contribution to our planet! This is according to a statement on their website.
Working from Home?
- So many people work from home either part of the week, or full-time. If you're on video conference calls then it's important that your home office looks professional. A feature wall is a great backdrop to your next video call! Or, if you already have a fireplace, consider adding Great Lakes around it to make it stand out and pop.
Increase the Value of Your Property with Fusion Stone
- Fusion stone says, perhaps the best reason for your business to use Fusion Stone is to increase your real estate value. With Fusion Stone, you'll be adding to the building's curb appeal, increasing insulation, and updating the interior with a clean and modern look so you can improve your resale value – an added bonus for any business owner who owns their building.
Fusion Stone is manufactured by
Shouldice Designer Stone
that has a rich and proud history of Innovation, Quality and Service. They are an example of the coming together of the beauty, strength, and maintenance free virtues of traditional stone with the ease of installation and affordability of stone veneer.
Fusion Stone is an easy and budget-friendly way to beautifully upgrade your home, inside and out.
Fusion Stone
281227 Shouldice Block Road
Shallow Lake, Ontario
N0H 2K0 CANADA
Telephone: (519) 935-2771 ext.224 or (800) 265-3174
Email:
fusion@shouldice.ca