Heating Up Spring/Summer With Griddly Games' Just Add Sun STEAM Kit for Kids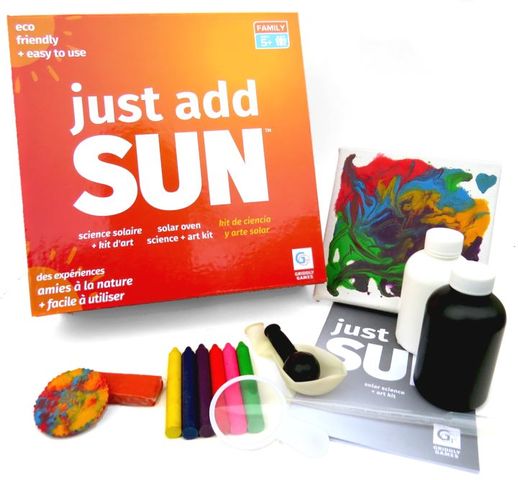 Today's kids are growing up as more environmentally conscious than any other generation. Recycling and other eco-friendly habits are second nature. Stemming from that way of life, companies are cultivating that positive interest with fun new products.
One example is Griddly Games' "hot" new product. Just Add Sun, which arrives just in time for Spring and Summer's warmer temperatures.
Just Add Sun is the new STEAM (Science Technology Engineering Art Math) kit "added" to the line of science and craft activity kits from Griddly Games.
Just Add Sun (MSRP $25.98 for ages 5 and up) is a solar oven (the box of the packaging is the actual oven!) that uses the sun's energy to heat up tasty treats, create cool crafts and test fun science theories. With the Just Add Sun Solar Science and Art Kit, you can learn how solar energy works and eco-friendly energy alternatives. See how the energy of the sun can be used for heating and cooking, and experiment with light, heat transfer, reflection, and more. Griddly Games has even included 'upcycle' items to create fantastic art.
Last year, Griddly poured out a cool new entry into the STEM product category with its Just Add Milk science activity craft kit. The product was embraced by all of the science and craft curious and quickly became Griddly's most successful product launch. This year, the company is "add"-ing more STEAM style kits with its Just Add Sun, Just Add Glue and coming soon, Just Add Sugar kits. Each kit comes with everything you need, except for that "added" ingredient.
This time, just add some sunshine for a great time and a good lesson in alternative energy.
For more info, contact Griddly Games at
http://griddlygames.strikingly.com/
About Griddly Games
: Griddly Games creates award-winning games and activity kits for kids that deliver innovative, engaging fun that brings people together. Founded in 2007 by Reisa Schwartzman, a mother of three boys, who took it upon herself to deliver wholesome family fun that multiple ages could enjoy at once, Griddly Games offers products that inspire laughter and fun, while promoting an active and healthy lifestyle. Griddly Games instill a strict company philosophy to encourage social interaction, learning, strategy and challenges that anyone (from across the grid) can enjoy. Follow Griddly Games on its social media channels on
Facebook
,
Twitter
,
Instagram
,
Pinterest
and
YouTube
.