Solve.Care welcomes Ed Odjaghian as Head of Client Solution Delivery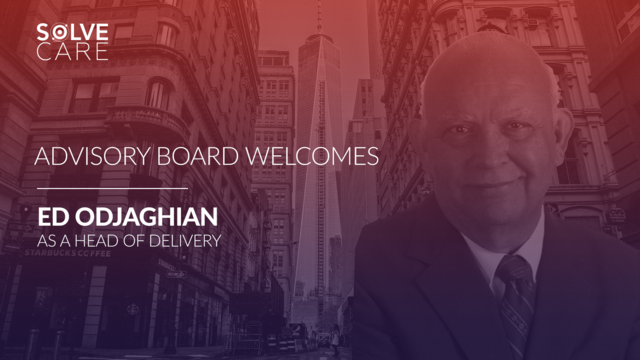 April 24, 2018 - Ed Odjaghian, a senior IT executive with decades of experience in healthcare solution delivery, has joined
Solve.Care
executive team to lead the delivery function and will be responsible for delivering Care.Wallet solution to clients.
Mr. Odjaghian has 30+ years of experience in various roles including healthcare solution delivery to clients. Mr. Odjaghian has spent decades managing operations of various IT companies, including software development, client services and support operations, building and leading offshore development centers and delivering enterprise level integrated solutions to government and commercial clients.
At
Solve.Care
, Odjaghian will be responsible for the operations, processes, policies and management of client solution delivery projects. Mr. Odjaghian also brings tremendous healthcare expertise that will help Solve.Care realize its plans for rapid growth and global expansion.
"I am looking forward to the opportunity to build and lead a highly effective delivery organization as part of the Solve.Care mission," Odjaghian said. "I am delighted to be part of a company that is leading the way to the future of healthcare administration around world," he added.
Before joining Solve.Care, Mr. Odjaghian was the Senior Services and Solutions Consultant at Technology Consulting Services. Prior to that, he spent a decade at EngagePoint, in various roles including Senior VP of Enterprise Solutions, Senior VP of Product Development and Chief Operating Officer. Before that Mr. Odjaghian served as the Executive VP and COO at ProfitLine.
Mr. Odjaghian's path has crossed several times with the Solve.Care CEO, Pradeep Goel over the last 20 years. "I have worked with Pradeep for the better part of 20 years in many of his ventures, and have tremendously enjoyed his leadership and track record for creating a corporate culture that produces success for team and clients both," Odjaghian said.
Pradeep Goel emphasized Solve.Care team's excitement about Ed Odjaghian joining them. "It is a pleasure and an honor to welcome Ed to our growing team. I'm extremely fortunate to have known Ed for a long time, and his background, approach and work ethic is perfectly suited to our company's mission and values," said Goel. "Our long history together will be very helpful as Solve.Care manages rapid growth and global expansion. I speak for the whole team when I say that we are all very excited about working with Ed."
About Solve.Care
Solve.Care platform
is a revolutionary healthcare administration platform that patients, employers, physicians, healthcare organizations and insurance companies can use to make care delivery more efficient, effective and affordable. It improves care coordination, while empowering individuals to effectively manage their healthcare decisions and replaced inefficient and duplicative systems with intelligent automation to save billions of dollars in costs per year.
Solve.Care platform is designed to synchronize insurance companies, government agencies, hospitals and providers, pharmacies and businesses to achieve better care coordination and more effectively manage the delivery networks while engaging all stakeholders.
The platform is also designed to combat and eliminate fraud, waste and abuse in the healthcare system by injecting unprecedented levels of accountability and transparency into the administration of care. Employers can also use the platform to administer benefits, reduce costs and reward their employees, while physicians and hospitals can issue prescriptions, manage appointments and coordinate with specialists.
Solve.Care has signed a multi-year contract for its decentralized healthcare administration platform with Arizona Care Network (ACN), a leading accountable care organization (ACO) in the US with a network of more than 5,000 physicians covering 250,000 members.
For more information about the company, please go to
http://www.solve.care
or contact us via email at
info@solve.care
Media Relations:
Mariya Ozadovskaya,
Mariya.Ozadovskaya@solve.care