Fusion Stone Says With 1500+ Dealers, You Don't Have To Go Far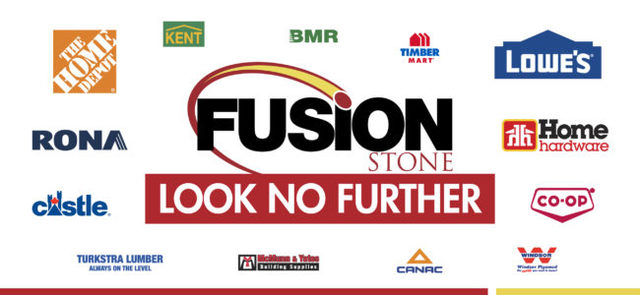 Fusion stone thanks her numerous clients who have decided to take on a DIY project and have chosen Fusion Stone. The next step is to find our products.
With over 1,500 dealers in our national network, you won't have to go far to do so
, says Fusion Stone.
We Want to Save You Time
- The company has the understanding that time is very valuable, and they respect the time of their clients. For this reason, they have made it easy to find their products using their
store finder
.
They also understand that you want to get your project going as quickly as possible. Maybe you only have a small window of time to get it done.
Fusion stone says they don't want you to race around town to get the supplies you need. That's why their products are found in most big-box stores (like Home Depot, Lowe's and Rona). The less time you spend gathering your materials the better -and with Fusion Stone you won't need much to start and complete your next project. The list of materials to complete the installation is small and you probably have most of them at home already.
Shopping Local
You can conveniently pick up Fusion Stone at big-box stores, but you can also find Fusion Stone in independently-owned, local stores as well. "We believe in supporting small, local businesses and if this is important to you, then you can use our store finder to locate an independently-owned Fusion Stone dealer. Whether you choose to go big or small, finding the closest dealer to you is just a few clicks away", the company remarked.
Using their Store Finder
- The company says there are a variety of reasons to visit their website. Maybe you want to find out more about the company. Maybe you want to check out their products or get some ideas for your next
DIY project
.
But one of the best reasons is to use our store finder; so says the company. Getting to a dealer near you couldn't be easier. You simply type in your location, how far of a radius you're looking to cover and let the results come flooding in.
You will be given the business name, address, phone number and the distance it is away from you. The toughest decision will be which one of these great businesses you will want to visit.
We believe that with the right materials, any DIY project can be simple and easy. From where to find our products to how to use them, we want your project to go as smoothly as possible. It's just another reason why we've been held in such high regard for more than 70 years. Our website is full of helpful tips and answers to almost any question you might have. Let us be your guide on your next DIY project, the company said.
FUSION STONE
281227 Shouldice Block Road
Shallow Lake, Ontario
N0H 2K0 CANADA
Telephone: (519) 935-2771 ext.224 or (800) 265-3174
Email:
fusion@shouldice.ca