CSIO Officially Gives Name to Its e-delivery Solution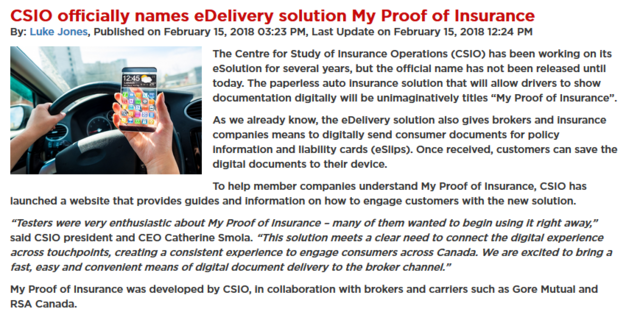 The Centre for Study of Insurance Operations (CSIO) has been working on its eSolution for many years, but the official name has not been released until the 15th of February. According to Shop Insurance, the paperless auto insurance solution that will allow drivers to show documentation digitally will be unimaginatively titled "
My Proof of Insurance
".
As is already common knowledge, the eDelivery solution also gives insurance companies and brokers' means to digitally send consumer documents for policy information and liability cards (eSlips). Once received, customers can save the digital documents to their device.
To help member companies understand My Proof of Insurance, CSIO has launched a website that provides guides and information on how to engage customers with the new solution.
"Testers were very enthusiastic about My Proof of Insurance – many of them wanted to begin using it right away," said CSIO president and CEO Catherine Smola. "This solution meets a clear need to connect the digital experience across touch points, creating a consistent experience to engage consumers across Canada. We are excited to bring a fast, easy and convenient means of digital document delivery to the broker channel."
My Proof of Insurance was developed by CSIO, in collaboration with brokers and carriers such as Gore Mutual and RSA Canada.
Shop Insurance Canada is a subsidiary of
RDA Insurance
, a major Ontario based insurance provider with a stable of online outlets that includes Shop Insurance Canada family sites. The company has two goals, to give you the very best insurance policy possible and to help you save money when looking for coverage.
Shop Insurance Canada
860 LaSalle Blvd. 2nd Floor
Sudbury, Ontario
P3A 1X5
Canada
(705) 814-0024
Email Shop Insurance Canada