Litworld publishing team brings its apologies to all its readers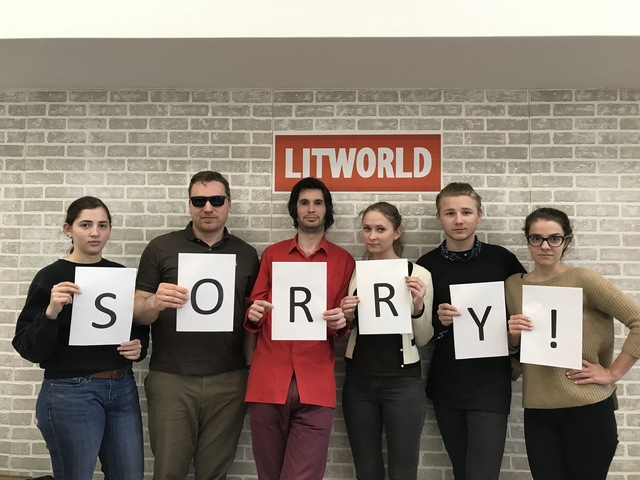 Litworld LTD
informs you, that on the 24th of April, the release day of
Fayroll 9: Word and Steel
, by Andrey Vasilyev, there was an error with an e-book on Amazon. Due to technical issues the preorder consisted of the incorrect book: book 8 with the cover of the book 9. More than a thousand readers have received the wrong version on the release day.
On the 25th of April the team of Litworld has uploaded an
apologizing video
.
"We apologize to all our readers! We're glad you've been with the Fayroll series for more than a year. You helped us to find the mistake as soon as possible, so our Amazon specialists were able to start working on mending the situation. We're doing our best not to let anything like that ever happen again. Unfortunately due to service delays with moderation of the book we weren't able to upload the right book at once. We've sent the correct copy of the book for all who've asked through our website. This release was not a fraud, so our readers may be completely sure about their money not being lost. In the shortest time all will receive the correct copy of Fayroll 9," - Litworld LTD
CEO Yuriy Emshanov
.
At the moment all bookstores and services were fully inspected and had the right version of Fayroll 9. At the same time, support service continues to work with customers and to help in case of any difficulties. We're analyzing all the possible causes of this mistake.
We in Litworld LTD bringing our deep apologizes and uploading a little gift: promo code to a 24% discount on ALL our books:
Litworld24
About us:
LitWorld is an innovative global digital publishing house. Our mission is to find the gems of modern fantasy literature and bring them to English-language readers. We believe that good literature should not exist in isolation, so we want to make the best fantasy novels available to all in the easiest, most accessible way, while providing our readers with the highest quality stories.
At the moment Litworld has five series in total. We also plan to present you brand new series, authors, and genres of high quality entertaining literature.
You can learn more about Litworld books and buy them on our
website
.
Contact us, if you still have any problems with our books:
welcome@litworld.info