Family ReEntry's Hodges To Receive Top Community Impact Award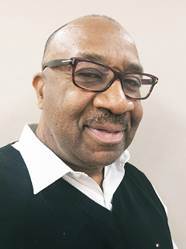 Family ReEntry, Inc. proudly announces that Fred Hodges, Family ReEntry's Director of Community Affairs, will receive the 2018 Urdang-Torres Community Impact Award at the Annual Bridgeport Reentry Collaborative Ceremony, held on Friday, May 4th at Housatonic Community College. Hodges is a life-long resident of Bridgeport.
The Urdang-Torres Community Impact Award, the top award of the night, was created to honor the memory of Stephanie Urdang (Career Resources, Inc.) and Jose Torres (CASA, Inc.), who dedicated their lives to reentry issues by providing compassion and second chances to returning citizens in our community. Each year the award is presented to the person, agency, or advocate who has worked tirelessly to promote the betterment of those reentering society. Past winners include Michael Askew, Dan Braccio, John Santa, Steve Lanza, Scott Wilderman, the Jay Brothers ReEntry Center and the book, The Justice Imperative: How Hyper-Incarceration has Hijacked the American Dream.
"It's humbling to have been selected from among so many individuals and organizations. We all work so hard to make a difference in our community," Hodges said. "It's a tremendous honor."
Through his work with Family ReEntry as well as volunteering, mentoring and service commitments throughout the state of Connecticut, Hodges is recognized as the individual who is making a significant, positive difference in helping to better the lives of individuals and their families who are navigating the criminal justice system.
Invited speakers at this year's event include Bridgeport Mayor Joseph Ganim, U.S. Senator Richard Blumenthal, CT Undersecretary for Criminal Justice Michael Lawlor, CT State Senators Ed Gomes (D-Bridgeport) and Tony Hwang (R-Fairfield), and CT Department of Correction Commissioner Scott Semple, and others.
The prestigious award will be presented to Hodges by Family ReEntry's Executive Director Jeff Grant. "Fred and I have been friends and colleagues for almost ten years," Grant said. "In that time, I've seen Fred help and change the lives of literally hundreds of families suffering from criminal justice issues. He's a gift to our community."
The Bridgeport Reentry Collaborative, founded in 2007, brings together the many local agencies that provide diverse reentry services to the men and women returning from incarceration. The Annual Ceremony celebrates the collective success of former offenders, advocates, and businesses who have demonstrated their commitment to effective reintegration. For award ceremony seating, please contact Rob Hebert:
hebert@careerresources.org
.
About Family ReEntry: Family ReEntry is a 501c3 nonprofit, that has served the Connecticut justice community since 1984. It has grown to become one of the most respected criminal justice nonprofits in the country, known for impactful intervention, prevention, in-prison, reentry, fatherhood and youth & family programs and advocacy. Over the past 33 years, effective advocacy efforts and community-based programs developed by Family ReEntry have significantly reduced the likelihood that clients will re-offend, be re-arrested, or be re-incarcerated. Its programs provide a spectrum of services designed to disrupt the intergenerational cycle of incarceration. Family ReEntry addresses the specific needs of each client and their families through individualized case management and support services. It works to create a positive social network for each client, helping make their transition from prison back into the community a successful, self-sufficient one, while strengthening their families and the community. Approximately, sixty-percent of those served by Family ReEntry are from the greater Bridgeport area – Connecticut's largest city. The organization has offices or programs in eight Connecticut cities including Bridgeport, New Haven, Norwalk, New Haven, Stamford, Waterbury, Derby, New London, and Norwich. More information is available at
www.familyreentry.org
and on its social media channels:
Facebook
,
Twitter
,
Pinterest
,
Instagram
, and
YouTube
.