The Wide-Ranging Benefits of Silver Ownership Discussed by Daniel Fisher of Physical Gold in Their Latest Infographic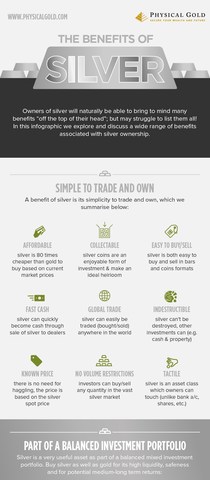 Silver is an often, under-appreciated investment opportunity with many investors seeking to invest in shares, ISAs or perhaps even just leave cash in a current account. If investors buy precious metals they often buy gold for its mass market-appeal. But what about silver? There are many benefits to silver ownership, these were all summarised nicely in a recent infographic from London silver traders "Physical Gold". Here we discuss their "Benefits of Silver" infographic and include quotes from Daniel Fisher, the MD of Physical Gold.
We asked Daniel "Why buy silver, surely there are better investments? Why is it such an important topic that it justifies an infographic?"
Daniel replied "There are currently many great reasons to buy silver. Industrial and investor demand is growing as mining supply is reducing. As I speak, the gold to silver ratio is 80:1, which we believe is excessive and there will be a price correction with a considerable uplift in the price of silver after all the 20th-century average was 47:1. Silver is due a sizable positive price adjustment in our opinion and we felt it was beneficial to list the benefits in one consolidated article."
The infographic can be viewed at:
https://www.physicalgold.com/insights/benefits-of-silver
The infographic starts by discussing the ease of ownership and simplicity of trading when buying silver, this is something it shares with gold. A major benefit is affordability with silver being 80 times cheaper or around 1.25% the price of gold. Silver is a global currency, easy to sell worldwide for fast cash and is highly desirable.
The next section discusses holding silver as part of a balanced investment portfolio. Daniel said "We're not suggesting that 100% of wealth is invested in silver, but a proportion of an investment portfolio should be. Investments require balance and we recommend somewhere between 5 – 20% of wealth is invested in precious metals (such as silver and gold). We are frequently asked questions on this topic, which is why this section was so important".
Other investments have their values too, e.g. shares can offer good dividends and capital growth, government-backed bonds work well for many, the best portfolios are all about balance. The balanced investment portfolio section is too detailed to discuss in full here but lists 14 reasons why silver works well in a portfolio.
In common with gold, silver is an asset class which doesn't have counterparty risk. When securely stored, Physical silver (not ETFs) has no counterparty risk. Other investments do, e.g. government collapse, banking collapse, stock exchange collapse, fraud (employee and cyber-crime), robbery and more! Daniel commented "Investors don't like risk, we try to highlight in this section the counter/third party risks of other investments. It's why a proportion of wealth should be in precious metals, which for thousands of years have always been a secure store of wealth."
We all know from economics that increased supply and reducing demand over time will (usually) lead to a price rise, this is increasingly the case with silver. Demand for the precious metal is growing as new applications/uses for silver emerge. This section details nine uses which are in catalytic converters, uses within electronics, healthcare applications, in household items, in industry, in investments, in jewellery, in photography film and also used in technology gadgets. Daniel said "The demand for silver is definitely growing and this can be seen in this section. We don't believe that silver prices can stay at this level forever, with such strong demand."
Physical Gold is a UK-based business, so the next section focuses on UK tax advantages of silver ownership. Silver can be used as a tax-efficient inheritance planning technique (coins are highly collectable too), silver coins can be bought VAT-free (see the infographic for details) and Sovereign/Britannia coins are legal tender and hence CGT free.
The final section is just for a bit of fun really and talks about the real health benefits of silver. It's important to understand these as they stimulate demand, which in turn stimulates price. Silver is beneficial in areas such as arthritis healing, wound treatment, radiation reflection, skincare treatments and toxicity prevention.
Read the infographic and decide for yourself, simply
click here.
The infographic can be read in around 3-4 minutes, a valuable investment if ever there was one!
About Physical Gold
Although the company name doesn't inspire thoughts of silver the business "Physical Gold" is actually a leading dealer of both silver and gold based in London, UK. Physical Gold pride themselves on being able to provide top-quality impartial advice to precious metal investors and have a deep knowledge of worldwide market trends.
Specialising in low-risk strategies, Physical Gold provide a wide-range of tax-efficient investment opportunities to investors in the UK and abroad. Specialist dealers in the sale of all kinds of silver (e.g. coins and bars), there many years of experience have been of great benefit in the production of this latest infographic.
Physical Gold contact details:
Company website:
https://www.physicalgold.com
Registered Office: 25 Old Broad St, London EC2N 1HN
Telephone: UK +44 (0)020 7060 9992
Contact: Daniel Fisher, Managing Director
Organisation: Physical Gold Ltd