Nationally Recognized Residential Designer Delivers Greater Access, Affordability via New Division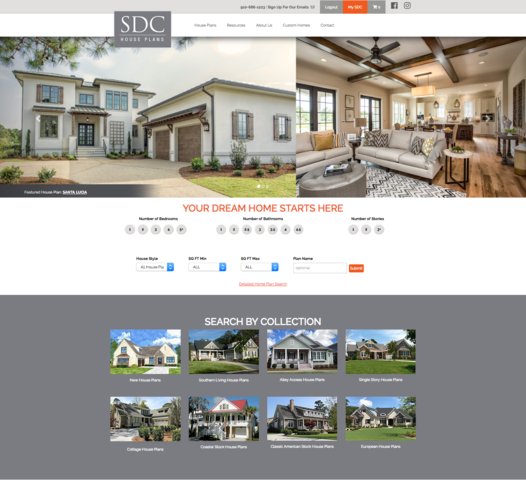 Wilmington, NC / May 2, 2018 / - Sullivan Design Company today launches SDC House Plans, its new division whose purpose is to make its vast collection of nationally featured house plans accessible to a wide range of consumers. Offering stock house plans since 2001, Sullivan Design Company has gained national recognition through features in Southern Living and Coastal Living magazines and many web-based plan publishers.
Its new division, SDC House Plans, will focus on accessibility and affordability for consumers who do not desire the expense and/or time commitment of designing a custom home plan. Offering a searchable, online database of 150+ stock house plans by Sullivan Design, the new division's online hub, SDCHousePlans.com, allows consumers and builders to quickly filter plans via collection and/or specific features, save their own collection of favorites, and purchase plans.
"We've created stock and custom plans for decades. Some people don't need a one-on-one custom design process to get the home design they want. We wanted to empower that consumer, to give them a simple way to access well-designed plans on their own. SDC House Plans was born from that desire," says owner Scott Sullivan.
Other consumer benefits include access to modification services for all plans, study copies and working drawings. Clients can choose to receive purchased plans electronically via PDF or CAD file or take delivery of traditional printed plans. SDC House Plans also allows multi-use license options for builders.
SDCHousePlans.com becomes available to consumers today.
ABOUT SULLIVAN DESIGN COMPANY
Specializing in custom residential design, renovations, additions and stock house plans, Sullivan Design Company was established by Residential Designer, Scott Sullivan, in 1994. Sullivan has designed hundreds of homes that grace the North Carolina landscape from the mountains to the coast and nationwide. Based in Wilmington, NC, Sullivan Design Company specializes in view oriented projects. Sullivan draws inspiration for his designs from historical precedents and classic styles, incorporating their timeless influence into the modern needs of his clientele.
Owner Scott Sullivan served as a design consultant on the Porters Neck Plantation Architectural Review Committee for 14 years and currently serves on the Autumn Hall Architectural Review Committee. He has been a member of the American Institute of Building Design (AIBD) since 1994.
Contact: Scott Sullivan, Sullivan Design Company
Phone: 910-686-1223
Email:
scott@SullivanDesignCompany.com
Attachments